BF Goodrich Mud Terrain KM2 Tires and AEV Pintler Wheels
Fresh off a new lift why not a set of the new 35" BFG Mud Terrains and a AEV Pintler 17X8.5 wheels.


AEV JK Wrangler Front Bumper Install
A full detail installation of this stylish bumper for the new JK Wrangler. Complete with skid plate, tow loops, and winch mount.
Product Review

McGard Wheel Locks
Information & Review
McGard wheel locks are a simple addition to any vehicle that helps prevent theft of your wheels and tires.
JK Post First Trail Run Debrief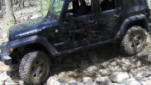 Impressions of the jeepfan.com JK Wrangler Unlimited Rubicon. Thoughts, likes, dislikes, and a review of the new Jeep's trail worthiness.
Wrangler JK 3.8L Oil Change
DIY - Do It Yourself oil change on the new JK. Very simple job that can be done in about 30 minutes.
Changing the operation of the electric locks
We cataloged all the magical ways of changing the way the electric locks work.
Fixing JK Wrangler Door Water Streaks
Stop them annoying streaks from the mirrors!

Cobra 75 WX ST All-in-handset Mobile CB
Information & Review
Great CB for a Jeep
The JK death wobble hits even the coolest of Jeeps. This massive forged trackbar did the trick to eliminate it.

TeraFlex JK Wrangler CB Antenna Mount
Simple and inexpensive. This mount is perfect to add an antenna to your JK.

BDS 3" Lift for Wrangler JK Rubicon
A new lift for the jeepfan.com JK. Time for an upgrade to the suspension to add increased articulation. New springs, shocks, and more.

AEV Wrangler JK Jack Base
This is a great, well thought out addition to your gear for your Wrangler JK.
BDS JK Wrangler Caster Adjusting Bolts Install

Jeep Suspension and Steering Alignment
We put the Jeep on the rack at OK Auto to see how a lift affects the Jeep's suspension and steering.

Airaid Cool Air Dam Intake System
Cold air box including a high flow air filter increases throttle response and power.
Product Review
Unichip Jeep JK Wrangler Performance Computer Module Install


In depth installation and dyno test of this engine performance module that will unlock some of the 3.8L's hidden power.
Product Review

TeraFlex 2.5" Budget Boost Lift
Information & Review
This kit adds a 2.5" spacer to the original coils to add some lift and shock adapters to keep the stock ride. An excellent starter lift. Kit from OK Auto 4WD and Tire
Toyo Open Country M/T
We chose the 295/70R17 size, that's 33.3X11.6 in normal talk.
Information & Review
Also See: Will 35's fit on my JK Wrangler with stock rims?

BDS JK Rear Track Bar Drop Bracket Install
After the installation of the TeraFlex 2.5" lift on the jeepfan.com JK the rear axle was too offset. We installed this BDS kit to solve the issue.

Mopar Fuel Door Cover
Information & Review
Magnaflow Cat-Back Exhaust System
Information & Review