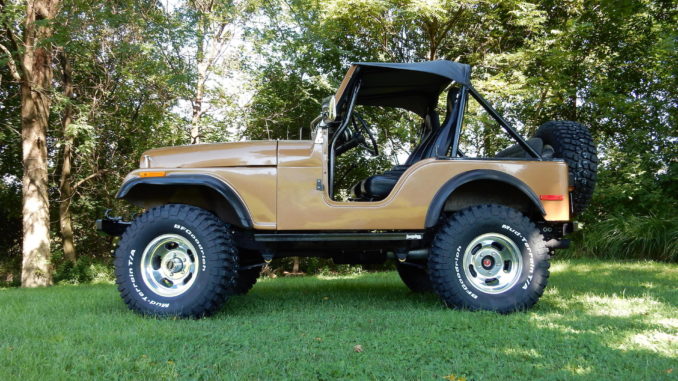 Mike is the founder of jeepfan.com. A lifelong "Jeepfan" playing around, modifying, building, and everything else with Jeeps for decades. Now on Jeep number 9 (some CJ's, JK and YJ Wranglers, Cherokee, and Liberty and about 5 CJ's for parts) the saga continues.
Visit detailed pages on the current jeepfan.com Jeeps below.
jeepfan.com CJ – 1978 CJ-5 – For near 20 years this Jeep has morphed around the Jeep life. Different tires, lifts, bumpers, axles, etc. This list continues.

jeepfan.com 2016 JK Wrangler Unlimited Rubicon Hard Rock – Knowing the end of the JK is looming we wanted to end the JK era with a version that was the best of the JK. The Hard Rock version of the Rubicon furthers the JK with some cool added extras. We added a 2.5″ Teraflex spacer lift, 35″ Goodyear Duratracs, Teraflex wheel spacers and lower control arms.
jeepfan.com 2012 JK Wrangler Unlimited Rubicon – An upgrade to the 2007 featuring the 280 HP 3.6L Pentastar V6 replacing the weak 3.8L in the previous years. This Jeep remained relatively stock and sported a 1.5″ Teraflex leveling kit and 33″ Goodyear Duratracs. A nice looking daily driver and mild trail Jeep.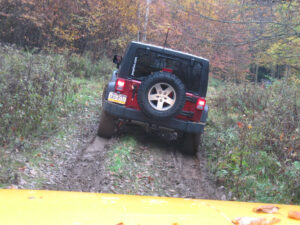 jeepfan.com JK – 2007 Wrangler Unlimited – A 1st year JK that took 4 months to arrive. This Jeep saw many changes from a 2.5″ spacer lift, to a 3″ coil lift, and back to a 2.5″ spacer lift. 34″ Toyo tires then 35″ BFG Mud Terrains. AEV Bumper, Warn winch, the list goes on.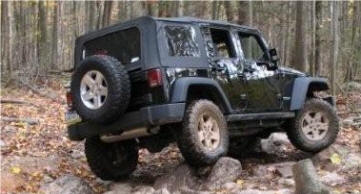 2002 Liberty KJ My second longest owned Jeep 2002-2007. The everyday driver I sometimes referred to as a "car". This Jeep was a true one but somewhat tamed. I only once (technically) wheeled it, I did play in the snow whenever I could.
I took it to Paragon Adventure Park during the closing weekend. I actually used it in low-range and had a pretty good time with it. I never really went on a trail that day but there was 3″ of snow and I did need 4wd to get out. The Liberty was your basic Sport Package with add-ons like the Select-Trac transfer case and off-road package. Automatic, power windows, locks, yadda yadda. This Jeep was traded for the new 4 door JK Rubicon Unlimited.
94 Cherokee Sport Owned 1995-2000 This was my daily driver and was equipped with a 4.0 Liter, 4 speed automatic, K&N Air Filter, 235/75R15 BFG All Terrains, and a SmittyBuilt Grille Guard (Not shown in this picture).

It has been a great vehicle I used for work and I occasionally used it off road. I also looked forward every year for a good snowfall to play in. I have to say that it sure worked great on a few 4-Wheeling trips. Although it is a little lacking in clearance and could use a lift kit but this vehicle was not my main off-roader. I sold the Cherokee in 2000 and miss it.
85 CJ-7 Owned 1994-1995. This Jeep was an accomplishment. It originally was two Jeeps, part 85 and part 86. The 85 was hit extremely hard in the drivers side and the 86 burned completely in a fire. After completely disassembling the body from the burned Jeep, which was in great shape, although the paint was burned off, it was sent to a local sandblaster and came back clean and primered.

I cleaned up the frame and used the engine and transmission (258 6cyl and a T176 4speed) from the 85. The axles were from the 86 which was lucky because this 86 had a Dana 44 rear. I used the rims from the 86 and bought new 31X10.5 BFG All Terrains. The hood, grille, windshield, wiring and the whole interior were from the 85. Luckily the hard top was not damaged in the accident but the driver's door was toast. I picked a set of doors from a Wrangler. After the Jeep was assembled it got a fresh coat of paint (Veridian Green) by my buddy Mike. The Jeep looked great but the 258 was not in the best of shape and the carburetor was driving me crazy.

Having kept the engine from my 70 CJ-5 it was about to come to life again. Deciding to calm the engine down a little, the intake and cam were replaced with an Edelbrock Performer cam and manifold kit. Since I was driving it everyday I added a Holley 670CFM Pro-Jection. The engine was adapted to the existing 4 speed with an adapter from Novak. A full dual exhaust system was installed to control the noise. Life changed in 1995 and a new job meant that I would have to drive a lot of miles so once again I had to sell my pride and joy, luckily for me my buddy Glenn bought it from me so I get to visit now and again. But as before I knew that getting rid of one meant looking forward to another.
See more of this Jeep…Glenn's Rig
89 Wrangler YJ Laredo Owned 1989-1991. I used this Jeep to drive back and forth from college and cart around my girlfriend. This Jeep was very classy looking, it was a white Laredo with a black hard top and aluminum rims. I only got off-road with it a few times on account I did not have much time on my hands. This jeep remained stock with the 258 6cyl and a 5 speed transmission. The image on the right may be the only image surviving.
80 CJ-7 Renegade Owned 1988-1989. This was one of my favorites, when I first bought it it had been in an accident and had a slightly bent frame, after that was fixed by my bud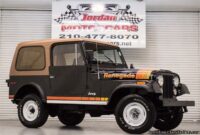 dy's body shop I pretty much just drove it for a while. Unfortunately it had the dreaded Iron Duke 4 cyl engine that should have been taken out back and put out of its misery. So, like the previous Jeep a Chevy was the only choice. I picked up a used 307 and installed a Crane Fireball II cam and an Edelbrock Performer Manifold topped with a Holley 600 4bbl. The engine was backed with a Commando TH400 and a Dana 20 transfer case. I finally sold this Jeep in 89 (only to see it totalled by the new owner a month later). The image is not the actual Jeep but it's an exact match.
70 CJ-5 Owned 1972-1993. My Dad bought this Jeep in 1972 (I was 3), it saw its share of trail rides and plenty of highway driving.

I remember a lot of broken parts and bloody knuckles. It was originally green and had a Buick 225 V6 with a 3 speed transmission 70

CJ Engine with a Warn overdrive. In 1984 the original steel body was pretty much gone so it was replaced with a 4WD Hardware fiberglass body and a one-piece front end. After a while with the new body we decided that the old V6 needed to be retired so a Chevy 350 was added. The 350 was completely redone.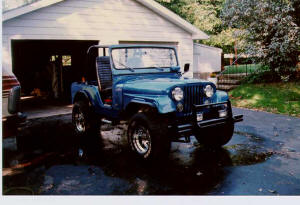 The engine had a Edelbrock Torker II manifold, a Competition Cams 292H camshaft, and a Holley 700 double pumper. We also installed a set of Vette fuelie heads that had been reworked. The 350 was pretty quick, we estimated 375 to 400 HP. The new engine was backed by a TH400 with a shift kit and a B&M Holeshot converter. After the engine upgrade I moved to bigger tires. In the picture below (Circa 1986) you can see the 33X12.5 Revenger Radials with chrome steel rims.
This picture was taken by my buddy Mike in my parents driveway probably in 1986. The rubber is gone today but the ditch I dug in the driveway is still there!