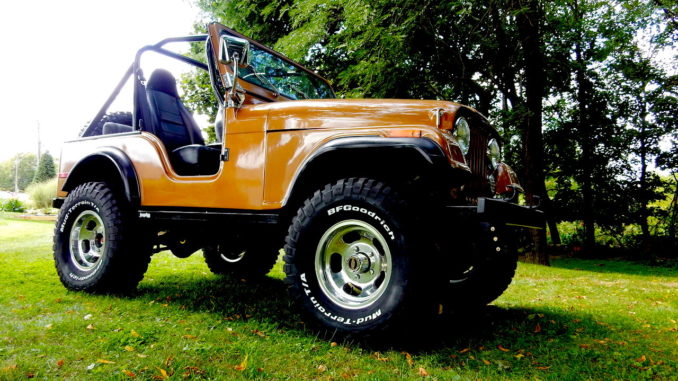 This Jeep has been in our stable since July 1997 and came in with all kinds of ideas. Amazingly it came pretty much a restored stock Jeep with an AMC V8 and a fiberglass body. It's hard to find a more perfect Jeep to start a project. The equipment list is below and continues to evolve.
T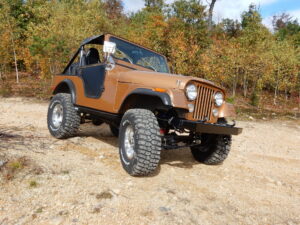 his Jeep has gone through many changes over the years. It was the intention to keep the Jeep close to it's original appearance while still making it trailworthy. In 2006 the Jeep went into semi-retirement to conserve it while the new JK took over regular trail duty. The Jeep was moderately converted back to a more simple version to match it's intended use.
In 2016 the Jeep was pulled from retirement as part of a book project. The Jeep would return to light duty and receive some needed upgrades.
Below is a list of the Jeep's specs.
AJ's Fiberglass Tub and Fenders, original steel grille and hood.
Edelbrock Performer Manifold and Camshaft
Holley Truck Avenger
Powertrax Lock Right in the rear
Rock Equipment Granite Kit
Frame Replaced – 2006
Flowmaster Muffler
Hi-Lift Jack

K&N Air Filter
Flowmaster Y-Pipe
Bestop SuperTop
Centerforce Clutch and Disc
4xDoctor Steering Box Mount
Olympic 54″ Rock Bumper front and rear
Auto-Meter Sport-Comp Tach
Warn VR8-S Winch on a Warn Mount
Retired or Removed Equipment
Durango 4X4 Front Bumper
ARB Air Compressor
Hella 500 Fog Lights
Tomken steering brace
Rancho RS9000 Shocks
Holley Pro-Jection