Below is a listing of the many readers Jeeps featured on jeepfan.com. If you would like to have your Jeep listed here please send us a message.
jeepfan.com 2016 JL Wrangler Unlimited Rubicon
Firecracker Red, dual top, 8 speed automatic. A lift and 37's are first business for this new Jeep.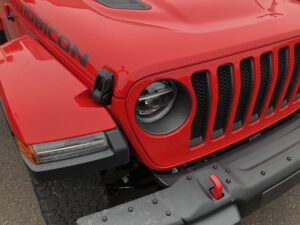 jeepfan.com 2016 JK Wrangler Unlimited Rubicon Hard Rock
Hydro Blue, dual top, 4.10 gears, and many upgrades on the way.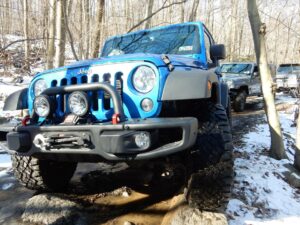 73 CJ-5 Monster
A massive CJ-5 that's reminiscent of the 80's and 90's style.
General Jeep
Modeled after the Dukes of Hazzard General Lee this YJ Wrangler has many modifications, swaps, and more.
Bryan's 1980 CJ-7


Squeaky clean CJ-7 with a 304, auto, wide trak axles and more.

jeepfan.com 2007 JK Wrangler Unlimited Rubicon
Black, Dual Top, Power Group, etc. AEV Bumper, Warn Winch. BFG 35″ Mud Terrains, TeraFlex lift.

Jeep Wrangler JT Concept
Cool Jeep truck based on the JK Wrangler Unlimited built by Skunkwerks. We can only hope to see something like this someday.
Mike's 77 CJ-7
360 V8, Auto, 35″ BFG's, MORE Shackle Reversal, Warn Winch, Air Locker, on and on…The latest and coolest addition to this Jeep is a set of TJ flares that we painstakingly added to look original.

Sue's 79 CJ-7
You won't find this Jeep on the trail but wow, what a nice Jeep! AMC 258, Quadratrac, Auto, 35's…
Karla's TJ Wrangler


4 inch lift, 33″ Mickey Thompson MTZ tires, Detroit TrueTrac and a slew of other stuff that make this Jeep a great wheeler.
Steve's 2007 JK Wrangler Unlimited Sahara


Toyo Open Country M/T tires, Jeep Hulk wheels, GPS, Husky Liners, and loads of other accessories.

84 CJ-7 – Restored
Keeping up with the Jones'. This project goes from a basket case to a show stopper. Fiberglass body, 360, lockers, more!

Keith's 2005 Liberty
Equipped with a 2 inch Revtek suspension lift and fitted with Goodyear MT/R mud tires.

Shawn's 2007 JK Wrangler Unlimited Rubicon
This is one sharp JK. Hankook tires, Hulk wheels, Black Diamond lift and more.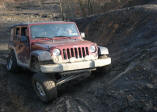 Ry and Matt's Twins – JK Wrangler Unlimiteds
These two have the distinction of being the first JK's featured here. Both lifted, muddy, and having lot's of fun. Some trail carnage too.

Jim's 1951 Willy's 2 Door Station Wagon
Jim has some questions about this antique military Jeep. See if you can help him out.

Glenn's 85 CJ-7, 79 CJ-7
Chevy 350, 33 Swampers, Rancho Lift. This Jeep has been long featured here at jeepfan.com. Resurrected from two totaled Jeeps.
Anthony's Korando and 78 Jeep CJ-7 Golden Eagle
UK Edition – Rare CJ in mint condition. Sure this Jeep looks like Daisy Duke's, Anthony is happy about it. He also owns a Korando.

Ted's 2002 Liberty KJ
ARB Air Lockers Front and rear, 245/75 Goodyear MTRs on Jeep Moab Rims, 2.5″ Frankenlift from All J Products with Rancho shocks, and struts.
Deb's 97 TJ
Classy looks, simple and functional. SOLD but not forgotten. Used by the Trekken TV show.

jeepfan.com 1978 CJ-5
Our flagship Jeep, this 20 year project continues.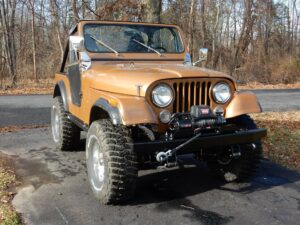 jeepfan.com 2004 TJ Wrangler Unlimited
A new project for us. A full on build from stock to trail ready. ARB lockers, 4.56 gears, armor, and more.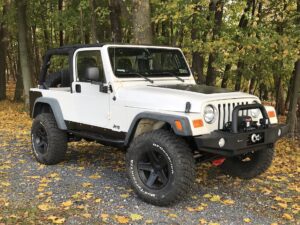 James Owens 1979 Golden Eagle CJ-7
Complete frame up restoration. Rebuilt AMC V8 and automatic transmission. BFG tires, Edelbrock performance add-ons and more.

Jim "Fuzz" Scheid's 401 Powered 78 CJ-7 Golden Eagle
This Jeep burns up the 1/4 mile in 12 seconds. A nice change of pace from on the trail and over the rocks.
jeepfan.com 2012 JK Wrangler Unlimited Rubicon
The 1st year Wrangler to come with a long needed horsepower upgrade, the Pentastar V6.

Kaiser Jeep FJ-6 Fleetvan 4X2
Strange and unusual, still a Jeep showing off the seven slot grill. This Jeep made by Kaiser was spotted for sale. Very cool!
Christine's 2007 JK Wrangler Unlimited Sahara


This red rock 4 door beauty looks good on the street and on the trail. Loaded with accessories, like a Warn 9.5ti winch and Mopar bumper this Jeep is fun and capable.

WaterCar Gator
The worlds first amphibious Jeep. Powered by a Corvette V8 this thing tears up the street as well as the water.
Mike's CJ-7 Racer


AMC 401 V8, Buckshot mudders, Dana 44's. This Jeep is designed for one purpose – go fast through the woods…and guess what, it does! Sam's 84 CJ-7 – The rebuild


Sam takes this old tired looking CJ from plain to sublime. New quarter panels, engine swap, custom roll bar and more.
EarthRoamer Xpedition Vehicles – EarthRoamer XV-JP


The Jeep Rubicon Unlimited based EarthRoamer XV-JP is designed to carry two adults on technical four-wheel drive trails to remote camping locations.

Dennis and Katy's 2007 JK Wrangler Unlimited
33″ BFG All Terrains, 17″ Wheels, TeraFlex 2.5″ Lift, WP Warrior Rock Bars.
Matt's 84 CJ-7


More than good looks, some equipment includes Howell Fuel Injection, K&N filter, Jasper 258 straight six with RV Cam. Clifford Header and Intake, Aluminum valve cover. 33X12.50 BFG Mud Terrains, Detroit EZ Locker in the rear and a Positrax No-Slip locker in the front. The list is extensive.

Austin's 1977 Jeep Renegade Levis
An all original survivor of days past. The Jeep was originally a farm truck that sat for a few years until it was rescued. After some cleanup the Jeep looks great. Future plans include a lift and new tires.

Mike's 07 JK, 78 CJ-5, 94 Cherokee, and others
A long Jeep obsession has led to several Jeeps over the years but honestly still not too many. Now to add a 2007 JK to the stable.
Bill's 74 CJ-5 Renegade
Rancho 2 1/2 in lift with 33X12.50 BFG Mud Terrain tires, aluminum wheels, ARB air lockers F&R w/4:27 gears.
1993 Cherokee XJ
3″ Superlift front springs
2″ block rear w/3″longer shackles, removed rear sway bar, quick disconnect front, 4-ES3000 Procomp Shocks. The list with this Jeep goes on and on.
77 Jeep CJ-7 Renegade, Levi's Edition
An eBay find, all original beauty. All original wheels seats and paint. AMC 304, automatic, and hard top. Sold for more than $10K.
Emilio's 2006 Liberty
245-75-R16 Goodyear MT/R tires on Rubicon wheels, a 2.5 inch Rocky Road Lift and a CRD Diesel under the hood.

Mike's 1950 CJ-3A
1958 283 Chevy Small Block, 332 HP on a dyno, 150 hp NOS, and Muncie M20 4 speed transmission. This Jeep has got to be one heck of a ride. Hold On!
Stephen's 86 Wagoneer, 62 Willys Wagon Classic looks modern (at least the 80's) amenities. You see Stephen took a grille from an old Jeep J-2000 and installed it on the 86. Neat!

Lane's 83 CJ-7
Big Jeep, lots of stuff. AMC 360 V8 with a Edelbrock carb, Edelbrock intake, Competition cam, MSD ignition and a K&N air filter. Dana/Currie 44 and Ford 9″ both equipped with Detroit Lockers