PRESS RELEASE: New for 2012 is the Pentastar 3.6L in the Wrangler and Wrangler Unlimited models. For those of you looking to lift your new 2012 JK, the factory exhaust crossover pipe is in close proximity to the front driveshaft limiting the amount of droop to about 2" before they come in contact with each other. Read more
The 2012 Wrangler has brought a few changes due the new engine and to add another to the list is the front driveshaft hitting the exhaust on a Jeep with 2.5″ or more lift.  See the 2012 Wrangler Model Changes and Compatibility Guide for all the stuff we have found so far.
Above pictures were taken while the Jeep was on a lift with the factory suspension fully extended.  The shocks are the limiting factor.
Teraflex has announced an exhaust spacer to help with this problem.  The spacer will allow exhaust clearance on the front drive shaft on Jeeps with lifts up to 5 inches.
The Teraflex Leveling Kit installation took about 3 hours at a casual pace.  Our experience working with the JK helped us to get by the little tricky parts and keep moving.  After the installation we double checked all the bolts we had contact with during the install including re-torquing the lug nuts after 50 miles.
Part 3: Rear Installation
Installation of this kit is pretty simple and only requires basic tools, a good jack, and good jack stands.  Safety is top priority, make sure the Jeep is secured before working underneath.
Raise the rear of the Jeep and support the Jeep with jack stands placed under the frame rails just in front of the rear lower control arm mounts.  Remove the rear wheels and allow the axle to partially pull away from the frame.  Several items need to be loosened/removed to allow the axle to pull away fully.  Unhook the parking brake cables from the bottom of the body and unbolt the upper sway bar links.  Remove the bolt from the rear brake line brackets on both sides, pop off the axle breather tube, pop off the locker wiring retainer clip (Rubicon only), and pop off the wiring retainer clip for the axle sensor wiring.  Unbolt the bottom shock mounts.  Failure to remove these things may cause them to pull tight under the weight of the axle and get damaged. Read more
Part 2: Front Installation
Installation of this kit is pretty simple and only requires basic tools, a good jack, and good jack stands.  Safety is top priority, make sure the Jeep is secured before working underneath.
Raise the front of the Jeep and support the Jeep by jack stands under the frame rails behind the front lower control arm mounts.  Remove the front wheels and allow the axle to extend away from the frame.  Don't let the axle extend fully at this point, there are several items that need to be loosened/removed first. Read more
The new jeepfan.com 2012 Jeep Wrangler Unlimited is a daily driver along with a weekend trail rider.  In the latest version of the jeepfan.com line we have chosen to maintain the daily driver-esqe and not put a big lift and big tires on.  Read more
PRESS RELEASE: Rough Country YJ N2-Series Suspension Dominates On and Off-Road
DYERSBURG, TENNESSEE— Looking for uncompromised performance on and off-road? The 4″ N2-Series Kit for Jeep YJ was engineered by Rough Country's Research and Development Team to give the perfect blend of off-road performance and smooth highway ride. A set of application tuned, lifted leaf springs are included in this kit along with a power steering pitman arm and brake line relocation bracket. The 4″ N2-Series kit also includes a tubular transfer case drop kit to maintain proper driveshaft angles as well as track bar drop brackets, bumpstops, and a full set of sway bar links. Most notably this kit is outfitted with the all-new N2.0 Shock Absorbers, nitrogen charged and specifically tested and tuned for YJ applications. This allows for a super smooth highway ride and outstanding control in rugged off road situations from the same shock. This kit retails for $449.95
Formed in early 1970's, Rough Country Suspension® Products was a founder of the off-road industry and is one of the fastest growing manufacturers and marketers of lifted suspension packages and off-road accessories for 2wd and 4wd trucks and SUVs. Rough Country Suspension® Products is owned by Heckethorn Products® which boasts a rich history in the automotive aftermarket, including the invention of the first steering stabilizer for military Jeeps in the 1950s. As a complete supplier, Rough Country Suspension Products offers retailers, wholesalers, and consumers an opportunity to purchase easy to install off-road products the market is demanding.
CONTACT:
Rough Country Suspension Products
1400 Morgan Rd.
Dyersburg, TN 38024
800-222-7023
www.roughcountry.com
QUESTION: I am looking to purchase a 2.5 inch lift kit for my 92 Jeep Wrangler.  Some of the kits have just the springs and shocks, while others have brake line extensions, transfer case drop kits and other items.  Are these additional items required for the 2.5 lift and if so do you know of a Old Man Emu lift kit that contains everything I need?  Thanks Phil L.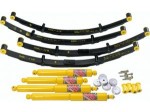 ANSWER: On a YJ it's not always necessary to add a transfer case drop and/or brake line kits.  The transfer case drop will allow the drive train to maintain a less steep angle and avoid vibration.  The brake line brackets will help if you off-road your Jeep a lot.
The Old Man Emu 2.5″ system does come with the transfer case drop brackets, shocks, and springs.  Probably all you would need.  Contact OK Auto for exact application and pricing.
QUESTION: I want to get the coil spacers for my jeep jk for a little boost in height (2 inches is plenty for me for now) but I hear that a lot more is required than just adding the pucks on the coils. for example shocks, track bars, etc etc etc. but then I also heard that 2 inches is small enough that leave everything stock or as is. my question is what other modifications do i need to do to my jeep to get a proper lift that wont cause me problems and money in the future. PS I don't offroad hard (1-3.5 rated trails) will these spacers last and are they safe? Jackie K
ANSWER: There are several companies that make quality spacer lifts and they perform very nicely on a Jeep. Many of the lift kits available today come complete with sway bar and shock extensions. 2 inch lifts don't usually require any track bar changes or alignment.
We have used the 2.5″ lift from Tera Flex on the jeepfan.com JK with much success.
Some others.. AEV 2″ Spacer Lift
Looking for an inexpensive but quality lift for your 2007 – 2011 JK Wrangler? AEV just introduced a 2″ spacer lift for Wranglers.  This kit gives a modest boost to a stock JK to allow larger tires and maintain factory ride.