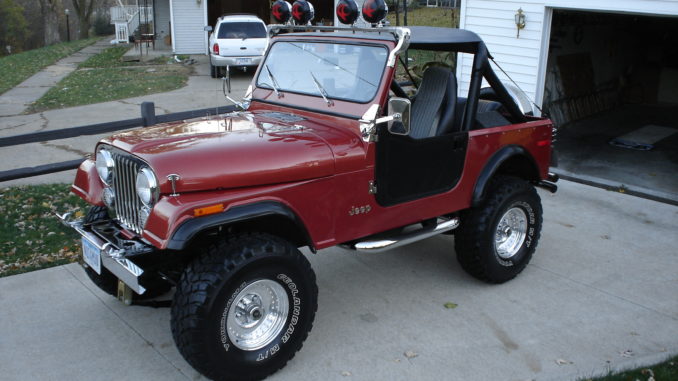 You won't find this Jeep on the trail but wow, what a nice Jeep!  Sue from Iowa bought this CJ-7 in 1979 brand new and drove it daily for the first 4 years. It wasn't long after she met her husband that the Jeep started getting modified. Sue's husband Mike has a 79 Mustang Cobra that he has been showing since new and Sue followed along with the Jeep.
Today the Jeep only has approximately 40,000 miles on it and still has a steel body with most of the original paint.
The Jeep is powered by the original 258 six cylinder that has a 390 CFM Holley 4V carburetor and an Offenhauser dual plane intake. A chrome valve cover and attention to detail makes the rest of the engine compartment perfect.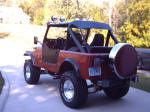 Getting the fumes out is a Hedman ceramic coated long tube 3 & 3 header finished off with a true dual exhaust equipped with Flowmaster mufflers.
The Jeep also has a 4 inch suspension lift sporting Yokahama Geolander 35X12.50X15s on Centerline Outlaw rims on the ends of the axles. Inside there is a black carpet kit and a set of Pontiac bucket seats dressed up in black vinyl and grey cloth. Some chrome goodies, Black roll bar cover, Black bikini top, and soft doors finish the inside. The original hard top and doors are still setting in the garage. Pumping out the tunes is a Sony CD player with 6×9 inch speakers sitting on the wheel wells.
On the outside of the Jeep is a Rotobar light bar above the windshield with 4 KC lights. Chrome parts are practically littered on the body including the front and rear bumpers, chrome grill, door and hood hinges, and Smittybilt side steps.
Getting the power from the 258 is a Quadratrac full time four wheel drive and a GM turbo 400 automatic.
On the back tire cover there is a airbrushed picture done by Letterfly that relates well to the license plate "Not4Mud".
Sue says: "Now ask me if it's ever been taken off road or ran through the mud? What do you think? The subtle modifications that we did to the engine really woke it up… Runs great and sound great too…almost has that V8 sound" (yes Sue, that's what all the 6 cyl folks say)
Some may argue that a Jeep that isn't used in the true spirit of what a Jeep was made for is a waste. We don't think so. Keeping a Jeep in near factory pristine condition helps us remember what was. The look of an old school CJ just makes us want to jump in through off the top and go for a warm weather ride.
Sue…keep it that way, well, ditch the chrome tube bumpers. (that's a little joke)