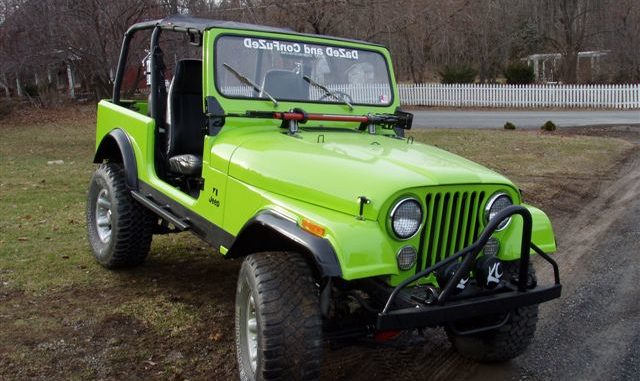 It all started for Sam in 2004, he spotted the 20 year old CJ sitting for sale at a local motorcycle shop. After inquiring within he was able to track down the Jeep's owner and a deal was made. Sam says the previous owner was going to give it to his daughter but she said it was too ugly, boy did she miss out.
Sam soon realized the extent of the rust problem (like all CJ's) but chose to lift the Jeep and deal with rust later. He purchased a 4″ Superlift lift kit at the Bloomsburg Truck Jamboree in Bloomsburg, PA. Sam states that the lift installation was 2 days of hell, most of us that have worked on a CJ know about this experience. See our Removing Seized Nuts and Bolts article for tips on beating these buggers.
His summer was spent enjoying his Jeep, rust, exhaust leaks, and all. Having some time at the end of summer he decided to replace the rear quarter panels, despite the fact that he had no body work experience.
He cut off the quarters one at a time and was amazed at the amounts of rust. Holes in the floor were patched including the one in the front that was already patched with some stove pipe pop-riveted in and covered with roof tar and carpet. New Old Stock (NOS) quarter panels that he purchased off eBay were welded on and the Jeep started looking like a Jeep again.
The Jeep was originally equipped with a 4 cyl that was replaced with a 258 6 cyl, T176 4 speed, and a Dana 300 transfer case with a 4:1. The stock rears had 4.10's inside already so the 33″ tires were a good match.
With the help of a friend the body work was completed and a new color for the Jeep was picked. The Jeep's floor was rust protected. Sublime Green was the color of choice, with the help of another friend and a home made spray booth the Jeep looked new.
Sam is a welder/fabricator for a living so much of his custom fabrication work comes easy. A customized YJ style roll bar was added along with a custom roll cage for the front. Other fabricated items include custom rock rails and a front bumper.
Sam wanted to thank everyone who helped him get his Jeep together especially; Josh, Chezy, The DNC Offroad Club, and eBay. Awesome Jeep Sam!
More Pics
What a transformation