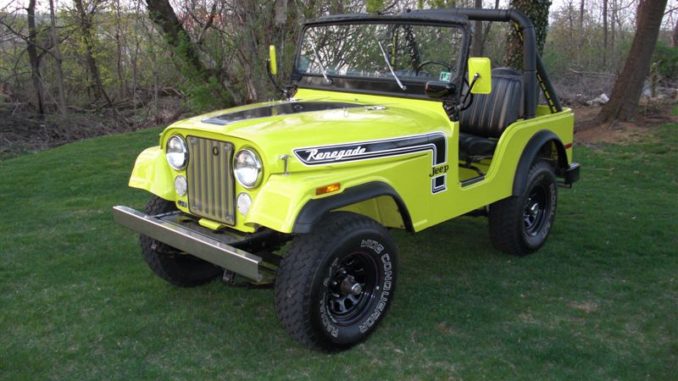 One evening in late spring I took my family for a ride in the jeepfan.com 78 CJ-5 which was recently re-assembled from a new Holley Truck Avenger carburetor and some exhaust work. Upon returning home there were 3 CJ's parked in front of my house, Rich, Mark, and Mike. They were out for some pre-summer air and paid a visit, luckily I returned home in time to catch them.
The very first thing that caught my eye was a bright yellow CJ-5 Renegade. I grabbed the camera and had Mike bring the Jeep into my yard for a few pictures.

The Jeep is a 1974 CJ-5 Renegade that has been restored to near factory condition. The 304 under the hood is completely stock and is still mated to the T-15 3 speed transmission. The interior is still stock and only has a few add-ons like a tach and temperature gauge.
The original steel body was replaced with a Four Wheel Hardware fiberglass tub and fenders. The hood, grill, and windshield remain steel. A small SuperLift lift was added to replace the worn out leaf springs.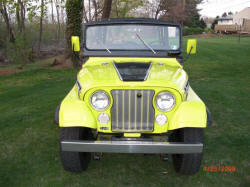 The factory color and decals were maintained to keep this Jeep all original. Other cool little details are the factory rear bumper and factory spare tire still on the aluminum slotted rim.
All this Jeep needs is a complete set of factory aluminum slots!