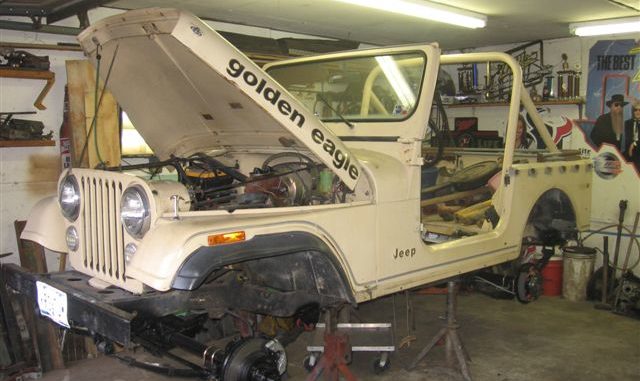 James' Jeep is a perfect example of a rescued Jeep that holds true to an original Jeep both in looks and function. It pleases us to see Jeeps that are restored and kept in stock form with maybe a few modifications to keep it interesting. James story is so good we let him do all the writing.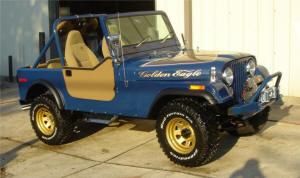 "I bought the jeep back in 2003 after I had just finished a job overseas. It was in running condition and really in pretty good shape aside from a few minor spots. The soft top snaps had either rusted thru or been pulled out and the previous owner had drilled new ones with out repairing the original locations. I figured I would do just enough work to it to get mechanically sound and use it to run around on the weekends and do a little 4 wheeling. Well soon after I bought it, I bought a Harley and the jeep took a back seat for about 3 years.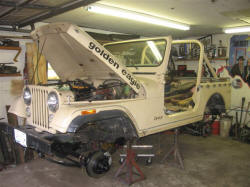 all of this I had been consistently working in South Korea building tension leg platform hulls for offshore rigs. I was in Houston for about 2 months during the summer of 2006 and got to looking at the jeep and realized that I needed to do something as it was starting to deteriorate. I was kicking off a new job in S. Korea so I started looking for someone who would take a project on that could work on it at their leisure. All I had originally looked at doing was a basic engine and drive train rebuild to get the jeep mechanically sound and then have rusted areas fixed on the body and a fresh coat of paint applied. A girl friend of mine hooked me up with a guy to do the mechanical part of it and another friend recommended a body shop that specializes in custom builds. After meeting with all the parties I delivered the jeep to the mechanic with instructions that while I wanted a few performance mod's I basically just wanted the drive train gone thru and any worn out parts replaced.

Once he got the engine, transmission and transfer case out and got the axles rebuilt he took the jeep over to the body shop while he rebuilt the engine transmission and transfer case. This is where things mushroomed. Once the body shop got a hold of it we started looking at how much I actually wanted to do and the decision was made to go frame off. Once this decision was made I was all in. The body was sent out for soda blasting and all rusted areas cut out and replaced with welded panels. The frame has been powder coated gloss black.
The Hanson bumpers, roll bar and numerous other small parts were sent out for powder coating as well. The powder coaters did an excellent job of matching the paint.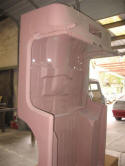 I had originally purchased an aftermarket decal for the hood but after applying it, it looked like s___! I didn't realize it when it was bought it (and they don't tell you) that the decal is pieced together.

So I had the shop paint it on and change the lettering from block to script. As I stated I wanted to keep the jeep pretty much stock looking with some nice upgrades and detail work done. An example of the detail work was having the quadra trac vacuum operated emergency drive switch relocated from the glove box to the new center console.
The last details are being completed which consist primarily of the pin striping, jeep logo paint, soft top installation, AC hookup etc."