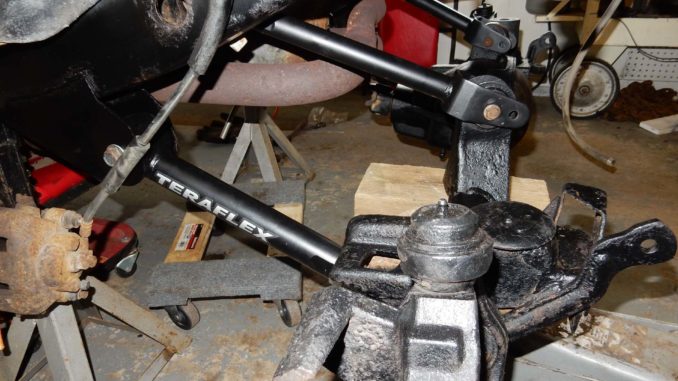 Continuing from Page 1 of Installing a TJ Teraflex 3 Inch Lift in the jeepfan.com 2004 Wrangler TJ Unlimited we have reached the point that everything old was removed. During the time the axles were off getting the ARB Air Lockers and G2 4.56:1 gears installed we took the time for some clean up.
We hit the frame with a wire wheel and wire brush to knock off the rust followed by a good washing/degreasing. This Jeep must have seen a fair amount of driving on gravel roads which created a lot of rust and lots of dirt packed in everywhere. The cleaning seemed endless.
We applied a few coats of Rust-Oleum satin paint. We weren't going for pretty, just your basic black and covered up rust. The Jeep isn't for show so when it eventually gets muddy it won't matter. Luckily this Jeep with all its harsh miles with its previous owner has a solid frame. TJ's are known for rotting frames, which often rot from the inside out.
Installation
Track bar bracket
Since the axles were removed we installed the rear track bar relocation bracket while the axle was on the floor. Installation is rather simple and requires a hole to be drilled. The bracket raises the mount point for the bar moving the bar back to a more parallel position. The closer to parallel the bar is to the axle the better the Jeep will ride. High angles on a track bar will cause lateral movement when hitting bumps.
Rear bump stop spacers and rear sway bar links
Installation of the rear bump stops and sway bar links is just easier with the axle out of the way. We took the opportunity to install these components while the space was clear. Bump stops are important when installing a lift. These stop suspension movement preventing spring binding, shock bottoming and body/tire damage. Longer sway bar links keep the sway bar at an optimum operating angle.
Flexarms
The Teraflex Flexarms go in first. Make sure the grease fitting is installed facing down or reaching the fitting will be near impossible without removing the arm. Teraflex provides starting length measurements for the arms. Setting them to the proper lengths will get the alignment very near correct. A full alignment should be performed after everything is finished.
When installing the arms with the factory arms removed getting the axle to remain in place may require a bit of wrestling. We installed the arms to the frame mounts followed by the axle side mount. For now leave the bolts slightly tight to allow the arm to stay in place but still allow adjustment.
With the Flexarms installed spring installation is next.