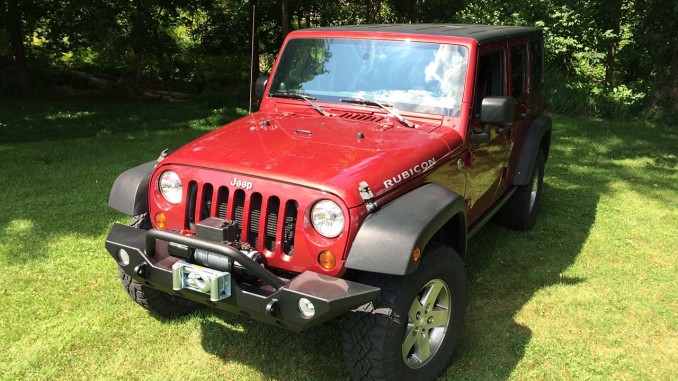 We decided that the jeepfan.com 2012 Rubicon needed a new bumper.  The search was on for something that met the following criteria.
looked good, some huge and hideous JK bumpers are out there – not on this Jeep
lightweight
wasn't going to cost a fortune
can mount a winch
provide tow points
retain factory driving lights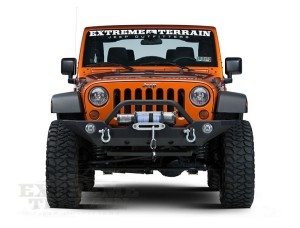 We started our search on Extreme Terrain's JK Bumpers Page and finally came upon the Barricade Trail Force HD Front Bumper.  The bumper fits 2007-present Wrangler JK and Wrangler Unlimited JK, is stylish, functional, not-ugly, and fit our criteria.  Some specs…
Heavy duty 5/32″ steel and 2″ x 0.120″ tubing
High strength D-Ring mounts w/D-Rings included
Built-in winch plate for up to 12,000lb. winch
OE size foglight housings
Two stage textured black powder coat finish
Weight: 79 lbs (*we weighed it – 64lbs)
Fits 2007-present Jeep Wrangler & Unlimited JK
3 Year Limited Warranty
Special Notes: Fog light housings from Rubicon X and some other JK special models will not fit.  Standard housings are required.
We received the bumper from ExtremeTerrain.com and unboxed it from the heavy foam-like wrapper which kept the finish secure in shipping.
Installation
We have installed a few JK bumpers over the years and have gone from the simple to the 10 hour complex installs.  This one took about 1.5 hours.
Removal
Since the factory air dam was previously removed, as any Jeep owner should do as a first act when getting the Jeep home, we skipped that step.  Remove the front air dam.  Then we started off using some Liquid Wrench on the existing hardware to ease removal of the nuts.  Remove on each side the 4 nuts that hold on the steel bumper and 2 bolts that hold the plastic shell.  Also, unplug the factory driving lights.  Note: the driving light wiring harness is attached to the steel bumper, remove them before the bumper is pulled off the Jeep.
Remove the plastic piece that sits behind the bumper – pry below the plastic, the screw head in the fastener is not a screw that will back out.  If you are gentle you may be able to reuse the screw if needed.