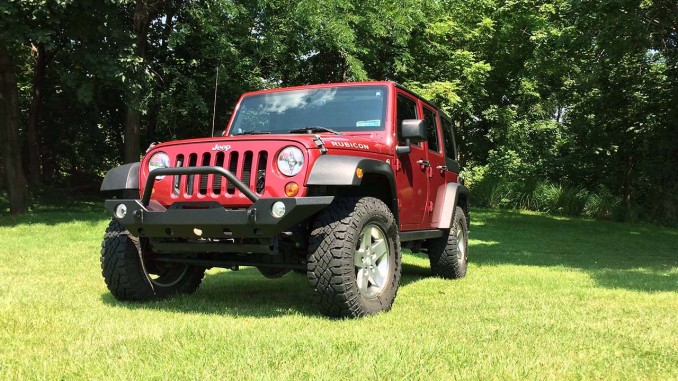 Continuing on from part 2 – Completing the Installation and Pictures. With the wiring complete and the driving lights mounted mount the bumper to the front of the frame.  Re-use the factory rear mount plates along with the washers, nuts, and bolts from Barricade.
Note: The pics are from the 1st installation of the bumper..this is where we learned it's better to put the driving lights in before mounting.  The 2nd (and final) time was the same process.
Secure everything up, plug in the driving lights and the job is complete.  Re-check the nuts/bolts after a week or so to verify everything is tight.
Pictures
Below is the completed install on the Jeep.  BTW, the included D-Rings are not installed on the bumper, they do add that special accent but rattle and clank around, this can wear the finish on the bumper.
Of course the bumper now needs a winch..but does look real good on it's own.  In closing this bumper installed easily, shipped well, and looks good even on a near stock Rubicon.  Check back for the winch installation.
Update:  A winch has been installed..Barricade 9500lb Winch Installation
Visit ExtremeTerrain.com to see all the JK Bumpers and Bumpers for other Jeeps.  For pricing and more information about this bumper – see Barricade Trail Force HD Front Bumper