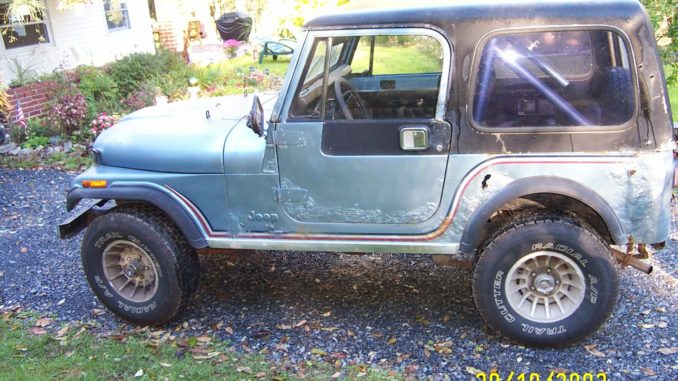 It all started with a rusted, rotted 1984 CJ-7. This tired CJ had a leaky 258 inline 6 and more holes than Swiss cheese. A perfect starting point for a rebirth.
| | | | |
| --- | --- | --- | --- |
| Where it begins | rear tailgate area rust | dash area stripped down | rear body area |
After bringing the Jeep home the destruction began. Piece by piece the Jeep was disassembled down the the frame. The sawzall was a valuable tool to have hear. Most bolts either broke or weren't holding anything when the body was concerned. There were a few interesting discoveries along the way. It turns out a license plate is a good backing to bondo patch jobs.



frame




frame and dash


POR-15 on the
rear frame section



front frame area
The cowl section was left intact to preserve the wiring locations and hookups. After the body was completely removed the frames body mount sections were repaired by welding new plates on the mount holes and redrilling for the new mounts. New front upper shock perches were installed. After all the welding and repair was finished on the frame it was coated with POR-15 to preserve the steel and provide a rock hard coating.

finished frame
front

finished frame
rear



let's go!
Axles and Drivetrain
Rear – AMC20 with Superior 1 piece axles, ARB Airlocker, 3.54 gears
Front – Dana 30, ARB Airlocker, 3.54 gears
Dana 300 with 4:1 Tera Low
Superwinch hubs
Suspension, Fiberglass Body, Engine
After the frame was coated a Skyjacker 4″ lift kit and shocks were installed. The front and rear axles received ARB Air Lockers and 3.54 gears. The rear axle was equipped with a Superior 1 piece axle kit. They both were installed into the frame, next followed the skid plate, transmission, and transfer case.
Suspension and Tires
35X12.50 M/T Baja Claw tires on Outlaw II wheels
4″ Skyjacker Springs and Shocks
JKS sway bar disconnects
4XDoctor steering box mount
Daystar greaseable shackles
A new fiberglass body was ordered from AJ's in Jersey Shore, PA. It was gel coated in a custom color. After driving a 5 hour round trip the body arrived to meet it's frame. It was test fitted on the frame and the installation began. Fiberglass bodies are delivered with no holes in them, all holes for wiring, vents, mounts, and other components must be drilled. Extra care must be taken to align holes correctly. The body does feature embedded steel plates to reinforce areas where the windshield, seats, and the steering column attach.
| | | |
| --- | --- | --- |
| new body | test fit | test fit |
The engine of choice was an AMC 360. The motor was completely rebuilt and now contains a host of performance items such as an Edelbrock Performer, Edelbrock 4 bbl carburetor, and Comp Cams Cam. When the engine work was completed it was installed into the Jeep.
The engine
AMC 360 V8
Edelbrock Performer Air Gap aluminum manifold
Edelbrock 650 4bbl off-road carburetor
GM HEI distributor
Comp Cams 270 Cam
Hedman Headers
dual exhaust through Flowmaster mufflers
180 amp alternator
4 core radiator
K&N Air Cleaner
| | | |
| --- | --- | --- |
| engine in | ready to start | coming together |
Wiring, Starting the 360, The Finished Product, and Accessories
With the engine setting in the bay work started on all the wiring. The original wiring harness was discarded and a new harness from Painless Wiring was installed.
Now that the wiring was completed it was time to fire up the 360. All connections, hoses, and lines were double checked before starting. With a twist of the key the AMC V8 came to life. There is a special feeling with hearing an engine run for the first time. The sounds and smells can be uplifting to a motor head. With the initial startup and break-in finished the engine needed to be timed and fine tuned. Also, a test drive around the neighborhood was needed, after all, it's been almost 2 years in the works.



hard work pays off




new tires


2 years later – finished
for now…
Now that the engine is in and things are coming together it is time for accessories. Seats, bumpers, tires, and others were installed to complete the project. Below is a list of accessories.
Other goods
Painless Wiring Harness
Warn rear bumper with tire carrier
Smittybuilt front bumper and nerf bars
Bestop Super-Seats
Bestop soundbar
Intrapod center console with stereo amplifier
Nordskod digital speedometer
Sony stereo system
ARB Air Compressor and on-board engine air-compressor
Xenon flares