Vehicle Restorations and Projects
jeepfan.com 2018 Jeep Wrangler Unlimited JL
Our newest project is just getting started. The all new JL is ready for a lift, tires, winch, and more.
James Owens 1979 Golden Eagle CJ-7


Complete frame up restoration. Rebuilt AMC V8 and automatic transmission. BFG tires, Edelbrock performance add-ons and more.
84 CJ-7 Restoration
Keeping up with the Jones'. This project goes from a basket case to a show stopper. Fiberglass body, 360, lockers, more!
CJ-5 Frame Replacement
A rusted frame on a 78 CJ-5 is replaced with a restored one.
Engines & Performance
Truck Avenger Carburetor
A new carburetor for the dying fuel injection system on the jeepfan.com CJ.

New High Performance AMC V8 for Rich's 84 CJ-7
Replacing a tired AMC360 with a performance crate engine from Tuff Dawg
Poweraid Throttle Spacer and Airaid CAI Install
We install these two performance items into Christine's JK to add a little more oomph and increased MPG.

Unichip Jeep JK Wrangler Performance Computer Module Install
In depth installation and dyno test of this engine performance module that will unlock some of the 3.8L's hidden power. Product Review
Airaid Cool Air Dam Intake System
Cold air box including a high flow air filter increases throttle response and power. Product Review

AMC 360 Engine Rebuild
A tired motor gets a good once over, plus a TBI
GM HEI distributor for an AMC V8
High performance ignition for the AMC
Jeep Tech – Engine Swaps
Information on all kinds of engine swaps.
Gear
Warn VR10-S Winch Installation on a CJ
This new series of winches from Warn offer excellent looks and budget friendly prices.
Warn VR10-S Winch Installation on a JK
We liked the new VR series winch so much on the CJ we put one on the JK.

TeraFlex JK Wrangler CB Antenna Mount
Simple and inexpensive. This mount is perfect to add an antenna to your JK.
Cobra 75 WX ST All-In-Handset CB Install
We install one of these space saving CB radios into the jeepfan.com 78 CJ-5

AEV Wrangler JK Jack Base
This is a great, well thought out addition to your gear for your Wrangler JK.
CoolTech Wrangler JK CB Antenna Mount
Clever CB antenna mount that hides in the JK license plate mount.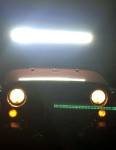 Warn X8000i Winch
Installation of this popular winch onto a CJ
Electrical
KC HiLiTES 6″ Pro-Sport Gravity LED Lights Model 644
Some extra lighting for the JKRHR
KC HiLiTES 20 Watt LED Lights Model 653
Classic styling for a CJ with modern LED lighting. We install a set of these on the 78.
Raxiom 50″ Light Bar Installation
Add a s&*t load of light to the night..we install a Raxiom 50″ light bar mounted to Lifetime brackets by HyLine.
Painless Wiring Fuse Block
Installation of a 7 circuit fuse block to clean up a wiring nightmare.

Brighten Your Lights
Installing Headlight Relays
Exterior, Bumpers, Roll Bars, etc.
Maximus-3 10A Style Bumper Add-Ons
We added some flair to the 10A style bumper on our Rubicon Hard Rock. Hoop, winch mount, and more.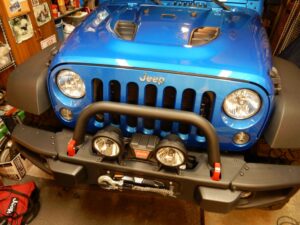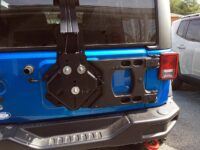 Teraflex JK Adjustable Spare Tire Mount Install
Teraflex JK HD Hinged Carrier Install
Barricade Trail Force HD Rear Bumper Install
Barricade 9500lb Winch Install
Barricade Trail Force HD Front Bumper Install
Great bumper – value priced
Hanson Offroad JK Wrangler Rear Bumper Install
Replacing that plastic bumper with something more substantial.
Mopar JK Wrangler Rock Bumper Installation
We install a set of front and rear Mopar rock bumpers onto Harry's JK.

Mopar Rock Rails for Wrangler JK
Adding some side armor to Christine's JK. Bolt-on installation in about an hour.
Spare Tire Carrier
Custom spare tire carrier for a CJ.

TJ Flares on a CJ
The right way of doing it!
Toe, Caster, and Camber
What does it mean and how to adjust it. Jeep Steering Alignment 101
CJ Full Roll Bar install
Smittybuilt rollbar installation and modification in a CJ-5
AEV JK Wrangler Front Bumper Install
A full detail installation of this stylish bumper for the new JK Wrangler. Complete with skid plate, tow loops, and winch mount.
Tires and Wheels
Mopar Performance 17×8.5 Wheels for the JL
Cooper STT Pro 37×12.50×17 Tires for the JL
Goodyear Duratrac 315/70R17 Tires
35″ tires for our 2016 JK Hard Rock
Teraflex 1.25″ Wrangler JK Wheel Spacers
Want to retain the stock wheels with wider tires?
US Mags Indy Wheels
Retro look wheels that look natural on a CJ.
BFGoodrich Mud Terrain KM2 Tires
New rubber for the jeepfan.com 1978 CJ-5
Wrangler Duratrac Tires
Installation of a set of Goodyear Wrangler Duratrac 298/70R17 tires on the jeepfan.com Rubicon.

Mickey Thompson Baja MTZ Tires
New 33″ rubber for the 78 CJ-5
BF Goodrich Mud Terrain KM2 Tires and AEV Pintler Wheels
Fresh off a new lift why not a set of the new 35″ BFG Mud Terrains and a AEV Pintler 17X8.5 wheels.
Toyo Open Country M/T Tires
Installed on the jeepfan.com 2007 JK Wrangler Unlimited Rubicon. Awesome tire that juuust fit.
Transmissions, Axles, Drivetrain, and Suspension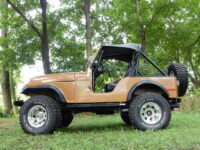 Old Man Emu 2.5″ YJ Lift Installation in a CJ
New springs and shocks for the jeepfan.com 1978 CJ-5
Crabtree Tool and Die Jeep Shackles for CJ & YJ
We install a set of these on a CJ
Teraflex JK Front Lower Sport FlexArm
These extra length lower arms can correct castor from a lift to reduce or prevent wandering.
Wrangler JK Brake Extension Brackets
Later model JK's use a different brake line mount, this simple mount helps with extending the lines after a lift.
Teraflex Forged Adjustable Track Bar for Wrangler JK
These can cure or reduce JK death wobble.
TeraFlex 2.5″ Budget Boost on a 2016 JK Unlimited
Installation of a new lift for the jeepfan.com 2016 JKU RHR Wrangler

Teraflex Wrangler JK Leveling Kit Installation
Installing a Teraflex Leveling Kit on the jeepfan.com 2012 Rubicon.

Rough Country 2.5″ TJ Lift Kit Install
We install this 2.5″ lift in a TJ along with a set of Rough Country's 2.2 Performance Shocks
TeraFlex Monster JK Wrangler Trackbar Install
The JK death wobble hits even the coolest of Jeeps. This massive forged trackbar did the trick to eliminate it.

BDS 3″ Lift for Wrangler JK Rubicon
A new lift for the jeepfan.com JK. Time for an upgrade to the suspension to add increased articulation. New springs, shocks, and more.
BDS JK Wrangler Caster Adjusting Bolts Install
Christine's JK – Lift, Tires, and Wheels
A BDS Lift, Nitto Terra Grappler Tires, and AEV wheels to improve the Wrangler's performance on and off-road.

BDS JK Rear Track Bar Drop Bracket Install
After the installation of the TeraFlex 2.5″ lift on the jeepfan.com JK the rear axle was too offset. We installed this BDS kit to solve the issue.
TeraFlex 2.5″ Budget Boost JK Lift Kit Install
An excellent lift installed on the jeepfan.com JK Wrangler Unlimited. We detail the install, test, and review this kit. Kit from OK Auto 4WD & Tire

Skyjacker 2″ Spacer Lift and Shocks on a Wrangler TJ
An inexpensive lift to raise a TJ. We install an economy lift on a TJ. Detailed instructions for any home mechanic to follow.
Powertrax No-Slip Locker Install
Detroit Locker Install
Installation of the Detroit No-Slip Traction system into a CJ
Dana 300 TeraLow
4:1 Gearset for the Dana 300 Transfer Case
BDS 3.5″ Wrangler Lift Kit Conversion
Installation of a BDS 3.5″ Lift Kit with RS9000 shocks and Rock Equipment accessories on a CJ-5.
Replacing Your CJ Front Brakes
How to replace your CJ's front brakes.
Wide Track CJ with ARB Air Lockers
78 CJ-5 gets the full treatment. Installation of front and rear ARB Air Lockers and late model CJ wide track axles.
T-18A Transmission Swap
Installation of a Jeep pickup T-18 into a CJ-5.
T-18A Rebuild and Short Shaft Kit
Article from offroaders.com on the rebuild of a T-18A for installation in Project CJ-7.
Project CJ-7 – Armoring the Skid Plate
Converting a Dana 300 skidplate for a Dana 20

Old Man Emu into a 47 CJ-2A
Removing the buck-board ride by installing a Wrangler Old Man Emu suspension kit with RS9000 shocks.
Skyjacker 2.5 inch Lift Kit
The first lift for Mike's 78 CJ-5.
Detroit EZ-Locker Install
Simple inexpensive total traction, an installation of an Easy Locker into a CJ-7.
Miscellaneous
Body and Seat Modification for a CJ-5
Fitting new seats in a CJ-5 can be a challenge, this clever body mod sure helps.
4 Door Wrangler JK Freedom Top Hanger
A reader shows his way of storing his Freedom top using inexpensive parts.
McGard Wheel Locks
McGard wheel locks are a simple addition to any vehicle that helps prevent theft of your wheels and tires. Information & Review