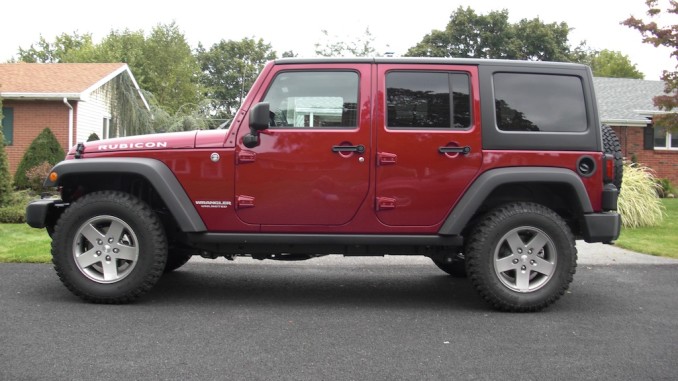 The new jeepfan.com 2012 Jeep Wrangler Unlimited is a daily driver along with a weekend trail rider.  In the latest version of the jeepfan.com line we have chosen to maintain the daily driver-esqe and not put a big lift and big tires on. 
Teraflex make many quality Wrangler products, we have used several varieties on past Jeeps and chose the unique Wrangler JK Leveling kit.  This kit adds up to 2″ in the front and 1″ in the rear.  Some JK's have extreme factory rake, rake is the difference in front to rear clearance to the fenders.  Imagine the look of a vehicle going down hill.  Some people like the look others, not so much.  Adding a heavy front bumper and winch can exaggerate the rake.
The jeepfan.com 2012 JK has nearly no factory rake and measures out nearly even front to back.  Perhaps because the Jeep is brand new and the springs haven't had time to settle out totally.  Rubicons do use different springs than the other models, these springs can add up to an inch of height.  It is said that the new Pentastar V6 is nearly 100lbs lighter than the 3.8L, if Jeep didn't account for this in the springs it could make the front more level.  It's like adding 100lb of a bumper/winch combo for free.
Some images of the Jeep before lift.
Stock measurements – taken from the ground, through the center of the wheel to the bottom of the flare.
Front – 36 5/8″, Rear 36 3/4″ – 1/8″ difference.
The Teraflex leveling kit uses 2 1″ spacers for the front and 1 1″ spacer in the rear.  The kit includes the 6 spacers, longer front swaybar links, and needed bolts.  This kit doesn't require shock extensions or bumpstop extensions.  We decided that we would only use a single 1″ spacer in the front to keep the Jeep from having backward rake.  The extra spacer may come in handy someday if we add a bumper and winch to the front.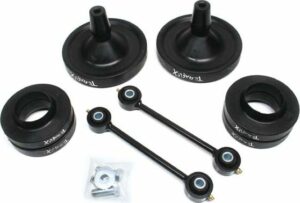 Teraflex Jeep Wrangler JK Leveling Kit
Installation of this kit is pretty simple and only requires basic tools, a good jack, and good jack stands.