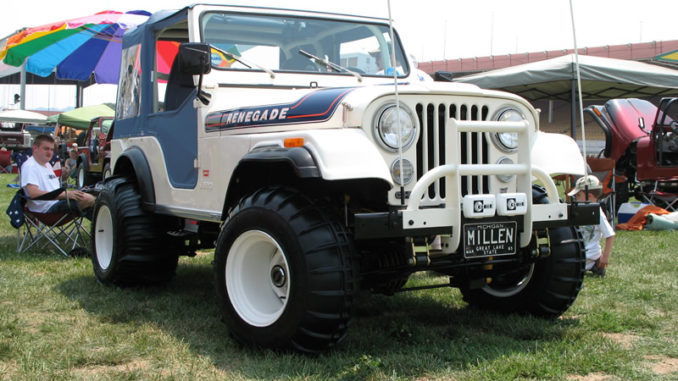 Page 7. July 19 & 20, 2008. 2 days of Jeeps, Jeep action, Jeep stuff, and well, more Jeeps! We have said this before but every year the PA Jeeps club puts on an all breeds Jeep show at the York County Fairgrounds in York, PA and this year is no exception. Also, every year the show grows and grows. Last year the show was bigger than ever and this year was no exception.
Show Favorites
Every year we find a few Jeeps that stick out to us and feature them in more depth. There are no particular rules or guidelines we follow, just our tastes.
Robert Millen's 1976 CJ-5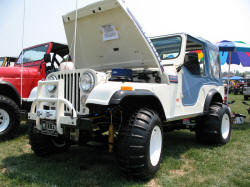 Robert bought his CJ brand new in 1976 and 30+ years later the CJ looks nearly like it did off the showroom floor.
The Jeep is equipped with a performance 258 including a 4bbl intake, 390 Holley, camshaft, dual output headers, and a Flowmaster exhaust.
In addition to the engine modifications the Jeep has front and rear paddle tire for the Lake Michigan sand dunes, T-18 transmission, and Dodge Van tail lights.
John Vavra's YJ Wrangler modeled after the Dukes of Hazzard General Lee.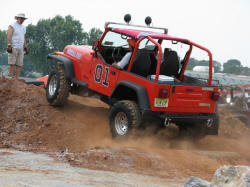 John's Jeep is typical to an older modified Jeep. It is made up of parts from many other Jeeps.
The 4cyl was replaced with a TJ 4.0L 6 cyl and the transmission came from a Cherokee. A 4″ Rough Country Lift and 34″ Swampers add to this unusual Jeep.
See more of John's Jeep in the readers Jeeps section.General Jeep
Darlene Good's 1949 Jeepster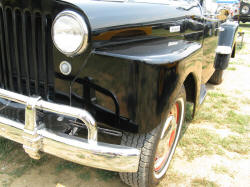 This Jeep is definitely an antique not seen often at Jeep events. The unusual styling and design is an example of those long gone days.
The restoration and attention to detail was remarkable.
more pictures from around the show