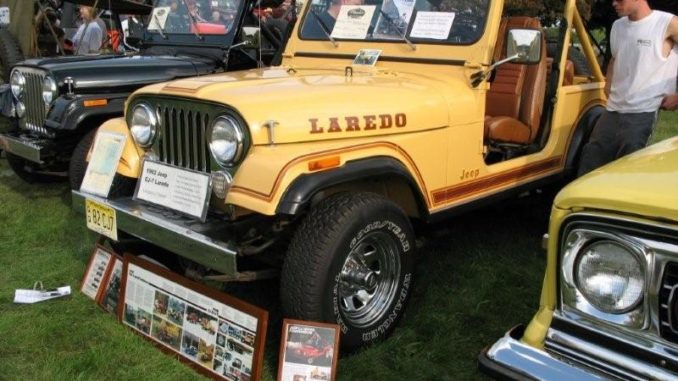 Typically we always pick a few Jeeps from a show that are extra special in some way.  At this show we picked two Jeeps, one an all original 1982 CJ-7 and one of Jeff Daniel's own restorations, a 1983 Jeep Scrambler.
Eric Jankowski's 1982 Jeep CJ-7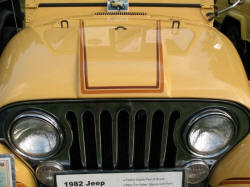 Eric bought this Jeep in Oklahoma and drove it all the way back to New Jersey.  This rare find is one impressive Jeep.  It has over 100,000 original miles on it and hasn't been modified or restored in any way.
Details…
1982 Jeep CJ-7 Laredo in Sun Yellow – Jeep Spotters Guide
Hard Top
258 6 Cyl Engine
2.73 Axle Ratio
Power Steering
20 Gallon Fuel Tank
Air Conditioning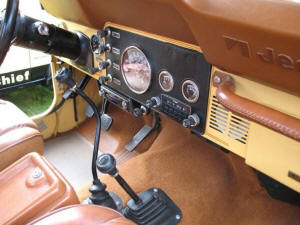 Below is the original Window Sticker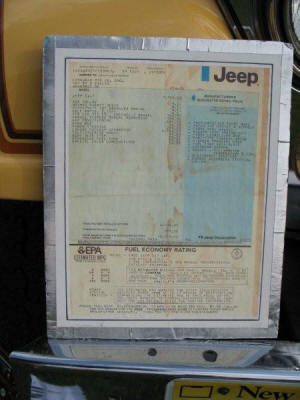 An MSRP of $12,370 seems such a small price.  Perhaps this Jeep is worth more than that now.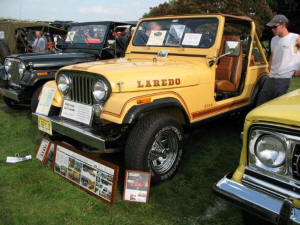 Eric is your classic Jeep obsessed.  He says he has owned 29 CJ-7's and 2 Scramblers (he's only 29 by the way).  He currently owns 5 1/2 Jeeps including a 83 CJ-7 Limited, 86 CJ-7, and a 86 CJ-7 Laredo.  The 1/2 Jeep is a work in progress.  Eric also owns a 89 XJ with a Chevy 350 backed by a NV4500 transmission.  This Jeep serves as a tow vehicle.






The body condition of this CJ is incredible for its age. There is almost no flaws in the jeep and the interior is clean and almost new.