pictures coming soon
OK Auto Tar Hollow Spring 2013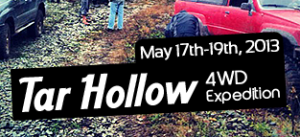 OK is heading to Hancock NY on May 17-19, 2013 for another weekend of offroading. The weather in Hancock looks good for this weekend.

Jeep Wrangler JK New Gecko Color
Spotted at a Jeep dealer – shocking, vibrant color will stand out for sure.
Rubicon Express Leaf Spring Degree Shims
Get rid of those creaky aluminum shims for these quality steel ones.
East Coast 4 Wheel Drive Association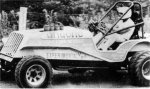 Region B Racing Memories from Days Past.  We've discovered some old pictures and flyers from the earlier days of Jeep racing.  Take a trip back to the 70′s and 80′s to see favorite Jeeps and drivers.  direct link to the Photo Album
EVEN MORE IMAGES ADDED
Mickey Thompson Baja MTZ Tires and Classic II Wheels
A fresh set of shoes for the CJ.  The 11 year old tires and used wheels needed a facelift.

AEV Wrangler JK Jack Base
This is a great, well thought out addition to your gear for your Wrangler JK.

AEV's J8 MilSpec JK
On May 16 at OK Auto's Open House the AEV J8 was on display.  We took a personal look.

BDS 3″ Lift for Wrangler JK Rubicon
A new lift for the jeepfan.com JK.  Time for an upgrade to the suspension to add increased articulation.  New springs, shocks, and more.

Uniden Pro 510XL CB Radio
We picked up this CB Kit from Right Channel Radios to install it into the jeepfan.com JK Wrangler.
BDS JK Wrangler Caster Adjusting Bolts Install

Bryan's 1980 CJ-7
Squeaky clean CJ-7 with a 304, auto, wide trak axles and more.
Mopar Rock Rails for Wrangler JK
Adding some side armor to Christine's JK.  Bolt-on installation in about an hour.
Jeep Wrangler JK 2 Door and 4 Door Trail Comparison
Just how do the two new Jeep models stack up to each other on the trail?

Adjusting JK Wrangler Headlights
If you have recently installed a lift and/or larger tires your lights may need some adjusting.

Checking Tire Pressure – Determine Correct Pressure
How to figure the correct tire pressure for larger tires.

BDS JK Rear Track Bar Drop Bracket Install
After the installation of the TeraFlex 2.5″ lift on the jeepfan.com JK the rear axle was too offset.  We installed this BDS kit to solve the issue.
TeraFlex 2.5″ Budget Boost JK Lift Kit Install
An excellent lift installed on the jeepfan.com JK Wrangler Unlimited.  We detail the install, test, and review this kit.  Kit from OK Auto 4WD & Tire

Toyo Open Country M/T Tires
Installed on the jeepfan.com 2007 JK Wrangler Unlimited Rubicon.  Awesome tire that juuust fit.

Will 35′s fit on my JK Wrangler with stock rims?
We test fit a 35″ Toyo Open Country M/T on a JK Wrangler…see if it fits or not.
Jeep Wrangler JK 4 Door Long Term Review
The jeepfan.com JK is 2 years old.  See what we think so far…

Rough Country Wrangler TJ 2.5″ Progressive Coil Spring Lift
Innovative lift kit for the TJ that improves ride and suspension performance.

TeraFlex JK Wrangler CB Antenna Mount
Simple and inexpensive.  This mount is perfect to add an antenna to your JK.
AMC V8 Distributor Gear and/or Cam Gear Worn
Ever have this issue?  So have we, this ugly, not uncommon issue turns up in a brand new engine.

Hanson Offroad JK Wrangler Rear Bumper Install
Replacing that plastic bumper with something more substantial.
Rough Country 2.5″ TJ Lift Kit Install


We install this 2.5″ lift in a TJ along with a set of Rough Country's 2.2 Performance Shocks UPDATED

New High Performance AMC V8 for Rich's 84 CJ-7
Replacing a tired AMC360 with a performance crate engine from Tuff Dawg

Holley Truck Avenger Carburetor Install
The jeepfan.com 78 CJ-5 Gets a new carb and fuel pump.  Gone is the old TBI.  UPDATED
EC4WDA Legends Off-Road Race



On October 17 and 18th the County Line 4X4 Rough Riders will be holding a special race at the Kempton Community Center in Kempton, PA. UPDATED
Goodyear Wrangler Duratrac Tire Installation
We decided on 285/70R17 size Duratrac tires for the new jeepfan.com JK.
OK Auto Spring Show Off and Open House 2013



OK Auto held their 1st event of 2013 on April 27.

2013 Jeep Wrangler Rubicon 10th Anniversary Edition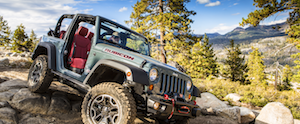 Jeep announced the upcoming 10th anniversary edition of the Jeep Wrangler. Available in early 2013.
2013 OK Auto Event Schedule
Tar Holloween 4WD Expedition – Hancock NY 10/4/13 – 10/6/13
OKtober Truckfest, OK Auto – 10/20/13
OK Auto 19th Annual Truckfest 2012



October 21, 2012 at OK Auto in Stewartsville, NJ. What a crowd..UPDATED
OK Auto Tar Hollow 4WD Expedition – Fall 2012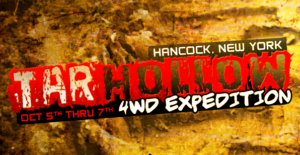 The folks at OK have teamed up with the New Jersey Jeep Association for this fall's Tar Hollow Expedition.  Running side by side with Tar Hollow will be Krawl 4 Kids.  Oct 5 to 7th, 2012.  Read More…
Jeff Daniels 9th Annual Jeep Show 2012



Jeff Daniels is holding their annual Jeep show and swap meet on September 29, 2012 at their facility in Harleysville, PA. UPDATED lots of pictures!
2013 Jeep Wrangler Moab Special Edition
UPDATED
PA Jeeps 17th Annual All-Breeds Jeep Show


Held at the York Fairgrounds in York, PA on July 21 & 22, 2012.
Jeep 5 Tire Rotation
How to rotate all 5 of your Jeep's Tires


May 5th 2012 at OK Auto's facility in Stewartsville, NJ.

Teraflex Wrangler JK Leveling Kit Installation
Installing a Teraflex Leveling Kit on the jeepfan.com 2012 Rubicon.

2012 Jeep Wrangler Test Drive
Is the new engine all hype? We finally got some seat time with a new Jeep and it's Pentastar V6.
2012 Jeep Wrangler Model Changes and Compatibility Guide
The new engine and transmission combinations in the 2012 Wrangler have made some aftermarket parts incompatible. The guide lists known issues.
jeepfan.com 2012 Jeep Wrangler Unlimited Rubicon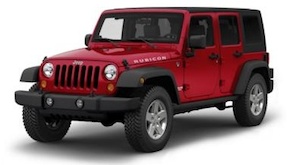 With the much needed engine upgrade the 2012 Wrangler comes equipped with the 285HP Pentastar V6. We decided it was time to start a new chapter in the jeepfan.com line of vehicles. In only 3 weeks from order to dealer it has arrived.
New from AEV. Wrangler JK 2″ Spacer Lift
PA Jeeps 16th Annual All-Breeds Jeep Show



For the 16th year in a row the PA Jeeps is holding their All-Breeds Jeep Show in York, PA on July 16 & 17, 2011. UPDATED
Wrangler JK Front Bumper Guide
Don't have a front bumper for your JK and are lost?

OK Auto EC4WDA Region B and Line Mountain 4 Wheelers Racing Contingency Program
OK Auto has developed an off-road racing contingency program for racers who race in Region B of EC4WDA and Line Mountain events. Earn back some of what you invest.