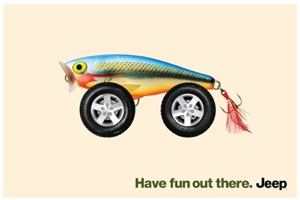 PRESS RELEASE
The Jeep® brand announced in June 2007 it is launching a new brand advertising campaign on July 1 that will take advantage of the brand's expanded seven-vehicle lineup, its 66-year heritage of 4×4 off-road capability and the inherent joy of driving Jeep vehicles. "Have fun out there. Jeep®" is the new brand advertising tag line.
The new ad campaign is designed to strengthen the already-legendary image of the brand and bring more buyers into the Jeep owner base, one of the most loyal in the industry. While the campaign's primary message is that driving the brand's sport-utility vehicles provides a unique-to-Jeep fun, it will also emphasize that, with an expanded lineup of seven Jeep vehicles, "Now there's a Jeep vehicle for you," said John Plecha, Director – Jeep Marketing & Global Communications.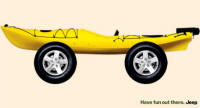 "Jeep has seven models in the 2007 model year, the most available to retail consumers at one time in the 66-year history of Jeep vehicles," said Plecha. "The 4-door Jeep Wrangler Unlimited is one of the hottest vehicles on the market today, while the all-new Jeep Compass and Patriot are attracting customers who are new to the Jeep brand. Now is the absolute right time to keep the momentum going with a new tag line and ad campaign."
The advertising campaign will have three phases, starting with outdoor and Internet teaser advertising. The "fun wheels" portion of the campaign kicks off July 1with billboards, outdoor boards, bus wraps and other out-of-home placements in 12 major metropolitan areas, plus four, 15-second TV spots and a Web site, havefunoutthere.com.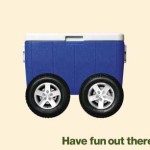 (The 12 are San Francisco/Oakland/San Jose, Los Angeles, Philadelphia, Detroit, Dallas, Washington, D.C., Miami/Ft. Lauderdale, Denver, Baltimore, Boston, New York and Chicago.)
"Fun wheels" are a variety of larger-than-life outdoor items that travel on wheels. There is a soccer ball with wheels, a picnic basket on wheels, an ice cooler on wheels — a total of nine items in all. (The other fun wheels are a camping tent, fishing lure, kayak, snowboard, surf board and inner tube.)
"We've proved over the years that Jeep vehicles allow people to go anywhere and do anything. At the same time, owners tell us that driving Jeep vehicles is a heck of a lot of fun, too," Jay Kuhnie, Director – Jeep Communications, said. "The fun wheels represent some of the fun outdoor activities that are associated with Jeep vehicles and the Jeep lifestyle."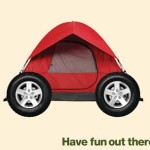 Phase two of the national campaign focuses on the heritage of Jeep and begins in mid-July. Planned are two national TV spots — a 60-second and a 30-second — called "Jeep Heritage." They begin airing on July 15 on all networks (programming currently includes ABC's "Desperate Housewives" and NBC's "Medium," "ER," and "My Name Is Earl") and major cable networks, including MTV, Food Network, VH1, FX, E!, National Geographic, Bravo, USA, TBS and TNT.
The lead magazine ad in phase two is a picture of a Wrangler two-door with the headline, "Fun. Headquartered and manufactured in Toledo, Ohio." Jeep Wranglers are manufactured at the Toledo North Assembly Plant. The copy delves into the history of Jeep. There will be additional print ads in national publications (GQ, Maxim, National Geographic and Fortune to name a few) and Web banners.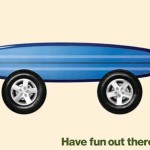 Phase three of the campaign, called "Sandbox," starts in early August and features the entire Jeep vehicle lineup. "Sandbox" is a 30-second national TV spot that shows all seven Jeep SUVs — the Wrangler two-door, Wrangler Unlimited, Commander, Grand Cherokee, Liberty, Patriot and Compass — cavorting in a giant sandbox. In addition, 30-second spots based on "Sandbox" will feature Commander, Grand Cherokee, Compass and Patriot. Also, a national print ad with the headline "7 vehicles. 1 purpose." will be added to the media mix.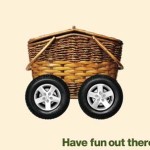 The campaign shifts to the all-new 2008 Jeep Liberty in September.
The new brand campaign is the first creative from Cutwater, based in San Francisco. The Cutwater advertising agency is part of the Omnicom entity. BBDO Detroit, in Troy, Mich., is the agency of record for the Jeep brand.
Promoting the new tagline the official Jeep website has a nifty new section allowing Jeep owners to share their photos and videos.