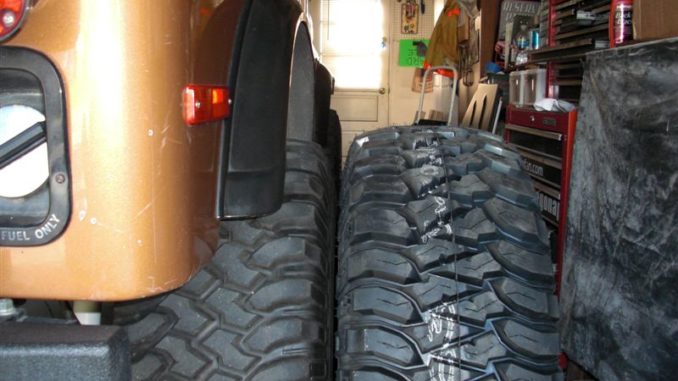 We put together a little reference guide for those of you wondering what size tires will fit under your Jeep. These are general guidelines, your vehicle may be different. We are only going to cover what we most commonly see on the trail and we are only going to cover Jeeps lifted via a spring suspension lift, body lift, extended shackles or some combination of all. We have never been a big fan of a large body lifts and big shackles. Body Lifts may have an undesirable effect on the Jeep (ex. fan clearance, shifter clearance, linkage problems, etc..) usually we would only recommend a 1″ body lift. Extended shackles (bigger than 1″) can cause steering problems on Jeeps due to changes in position of the front axle.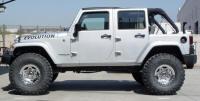 Off-Road Evolution's 2007 JK Wrangler Unlimited. 4″ Full Traction Lift and 37″ BFG Krawler Tires
Jeep JK Wrangler and Wrangler Unlimited 2007-2017
This Jeep, newest to the fold is probably the easiest Jeep to fit larger rubber with a limited amount of lifting. The JK in stock form will easily fit 32″ tires with no rubbing as long as backspacing is checked. A 1″-2.5″ lift will allow 33″-35″ tires with little or no rubbing. 3″-4″ lifts will accommodate 35″-37″ tires more comfortably. A wheel backspacing of 4.5″ or less may be needed on 35″ and larger tires to avoid rubbing the frame and other chassis components.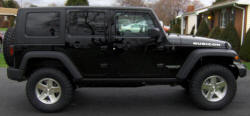 Jeep Liberty 2002-2007
The liberty is limited without radical modification to about 32″-33″ tires. 32″ are a better idea and can be fit on a Liberty with a 2.5″ lift with minor trimming/adjustment.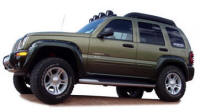 Jeep TJ 97 – 06
No lift. 31″ tires fit well but may rub slightly during suspension flex.
2″ Lift. 32″ tires fit well. 33″ tires will rub during flex.
2.5″-3″ Lift. 33″ tires fit very well and usually do not rub. Wider fender flares may be needed for tires wider than 11″
4″ Lift. 33″ tires fit excellent and rarely rub on the fenders. 35″ tires fit well depending on the lift and usually do not rub on the fenders when wider flares are used.
Jeep CJ 76 – 86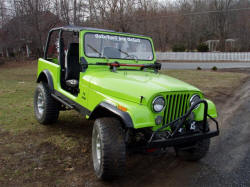 No Lift. Usually a CJ with no lift will take a 31″ tire the best. I have seen 33″ tires stuffed under though, I would no want to take the Jeep off road this way. I think you will hear a lot of fender rubbing during suspension flex.
2.5″ Lift. Seems that this is most common. 33″ tires fit good and usually don't hit except with very soft springs. The 82 to 86 CJ-7 may be a little more prone to fender rubbing due to the wide-track axles.
4″ Lift. The most common size I usually see is 33″ to 35″ tires. 4″ lifts seem to vary in overall lift, so your maximum size tire will depend on your situation.
76 to 83 CJ-5's and 76 to 81 CJ-7's may experience some tire rub on the rear inner wheel wells and also rubbing in the front on the springs during hard cornering. 10″ rims usually seem to make this problem better and also using the standard 3 5/8 backspacing helps. Most of these guidelines will work on CJ's earlier than 76 also.
Jeep YJ 87 – 95
No Lift. 30″ tires are about as big as I would feel comfortable with. YJ Jeeps have wider axles and tires wider than 10″ start to stick out of the wheel wells. This may be illegal where you live and also make a mess in the mud/snow/rain because the tires throw road debris all around. Also during suspension flex the tires may hit the flares and damage them.
2.5″ Lift. I have seen a big variation on 2.5″ lifts for YJ's. Some could fit 33″ while some will only fit 31″, again you will have to decide by examining your Jeep.
4″ Lift. Usually you see 33″ to 35″ tires.
Many YJ owners will use extended fender flares to keep tires wider than 10″ inside the wheel wells. There are several companies that make these, some are nicer than others.
Jeep Cherokee Classic 84 – 01
No lift. 235 is most comfortable but too small for anything serious. 30″ fit but will rub.
3″ Lift. 31″ fit best. 32″ fit but will rub unless the wheel wells are trimmed a bit.
Cherokee's have small wheel wells and require trimming to go comfortably above 32″ It's a shame that Jeep never made a production Cherokee with larger wheel wells, because these Jeeps are such fine off-roaders.