A guide to a common engine swap in Jeeps
This is a common conversion one we have done several times. It is tough to put an exact price on, or what all you need. Here's a list of essential items you will need, not to mention also needing the proper tools.
Also keep in mind that we are not claiming to be experts on this so don't consider our opinions as rules only a guide. Do plenty of research and use as many resources as possible to form your own views. Your swap has to be what is right for your application.
Gotchas
Engine- Try to get a complete engine for all of the accessories especially brackets. An engine can run from $50 to however much you want to spend. A complete new performance motor will run $2000+. Sometimes a new engine can be cheaper than a rebuild plus you get a warranty. Swapping in an odd-ball V8 just because it's laying around is often a bad and costly idea.
Transmission- Depending on the HP and how heavy your foot is your stock Jeep trans may not handle the engine. Some earlier stock transmissions like the T18, T150, T176, and the automatics are pretty good choices. Most others aren't considered strong enough but can be used if not abused. Non-Stock transmissions like a NV4500 are a good choice but can cause clearance problems, require expensive adapters, and usually require driveshaft lengthening/shortening.
Adapters- (Novak GM Adapter shown) Depending on what you have and what you are putting in will decide this. For instance if your Jeep has an AMC inline 6cyl an AMC V8 will bolt right up to the trans and all you need is some factory motor mounts. Same Jeep getting a Chevy V8 is a different story. You will need transmission and motor mount adapters. Adapters can run from $150 to $1000.
Radiators- Most V8 swaps will require a new heavier radiator to handle the V8, fortunately there are several companies which make conversion radiators that fit right into the stock Jeep grille. $200-500.
Exhaust Systems- These can be easy or frustrating. The easy way is getting a set of fender well headers and slapping mufflers out the side with some turn-outs $150-$250. Harder way is duals out the back with headers or manifolds, this usually needs to be done by a muffler shop and some won't do it for emissions reasons. Check around.
Annoying Problems- All kinds of problems can arise doing a swap. Try to go to your local parts store and get a radiator hose for a Chevy 350 in a Jeep CJ, most times the say "That's not in my book here". Most problems involve getting and fitting parts into the engine compartment. You have to keep in mind the steering rod, hood clearance, the front drive shaft, the radiator, the cowl, the brake master cylinder, fenders, wiring, etc…
Engine Types – popular to not-so
information provided by Novak Conversions
Chevrolet V8's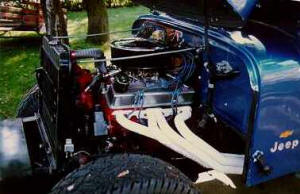 The 1958-2001 Chevy Small Block V8's are very popular for Jeep swaps. Stock Small Block series engines consist of the following displacements: 265, 283, 305, 307, 327, 350, 400. Some of the reasons for the popularity of these engines are: availability, outstanding parts interchangeability, compactness and light weight, plus the fact that these engines fit nicely in most Jeeps. These engines have been popular choices since the mid-sixties, and because they are so familiar, the information and parts required to swap them are more widely available. Big Block V8 engines are exciting, but usually do not make for a smart swap into most Jeeps.
Ford V8's
The Small Block Ford V8 can be installed in most Jeeps although generally not as simply or economically as the Chevy V8. The Ford small block series are the 260, 289, 302 and 351W. The biggest problem with the Ford V8 is that the engine is longer than the Chevy V8 which is a problem on CJ's up through 1971. Another problem with the Ford engine is the front sump oil pan found on all engines except those used in some 4x4s. Oil pan modification or the use of a 4×4 pan is required on most Jeep installations. Exhaust manifold changes add to the cost of the swap. Parts interchangeability is not nearly as good as on Chevy V8. However, Ford enthusiasts who know these motors and their parts interchange information well, swear by them and install them with good success. Ford Big Blocks are discouraged, as well as the Cleveland and Modified series.
Mopar V8's
The Dodge Small Block 318 and 360 V8's are the best Mopar swaps into Jeeps. These engines are strong, reliable and affordably maintained. They are roughly the size of the Chevrolet Small Block. As Jeep has come under the wing of Chrysler, some are interested in installing these engines in their Jeeps. Our curiosity in the installation of these engines into Jeeps is piqued. Get in touch with us for details. Dodge big blocks, however, are likely to be fairly poor choices for most Jeep conversions, due to weight, size and excessive power.
AMC V8
These are far less intuitive swaps than most individuals assume when planning a swap, and the surprises often weigh down the project discouragingly. AMC V8's have always made good power and have some good design built into them, but the increasing obsolescence in their parts drive the costs of maintenance up. It often turns out, ironically, that the hardest parts to swap into Jeeps are Jeep parts. It should be noted here that the AMC engines are in no way related to the Mopar V8's, even if the c.i.d. designation may be the same.
Remember
A V8 conversion is not an easy task and this list is by no means complete, it takes skill and handiness to make this work. We always say that this job should be done right because it is harder to do over and when you are out on the trail it can leave you stranded. Also make sure it's legal where you live to do this because if you have vehicle inspection in your area you may have done all the work for nothing if it won't pass inspection.