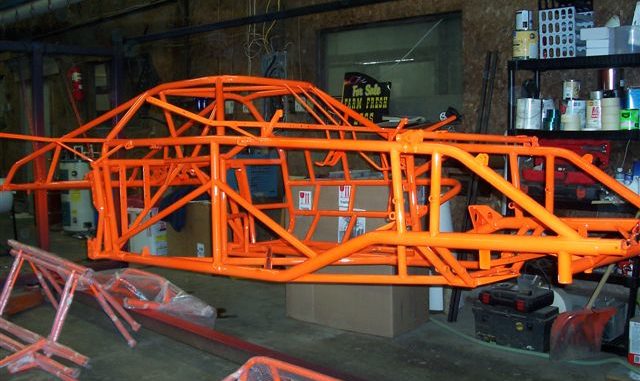 information provided by Absolute Powder Coating, LLC
Let's start with the WHAT'S?
Powder Coating was first used in Australia in 1967. It was developed when they found a formulation for a finely ground "plastic" powder. That was the beginning of the powder coating industry.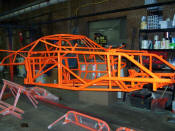 The process of powder coating is done by first cleaning the part to a dry, bare metal surface, a special electrostatic spray gun with 30,000 to 90,000 volts, is used to apply a thin layer of "plastic" powder onto the surface of the part to be coated. The powder is held onto the part by static electricity. Kind of like dust on a TV. Once coated, the part is oven baked at approximately 400 degrees Fahrenheit. The curing oven melts the dry powder to a "gel state" and then further curing causes this gel to harden into a very tough "plastic" coating. This flowing and fusing of the coating in the final curing oven creates a continuous coating which is very hard and has no porosity.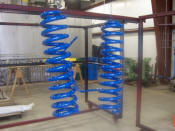 Now for the WHY?
Powder Coating does not use solvents, there are no toxic chemicals released into the air, thus EPA regulation do not add expense to this process. Also, for about the same cost as professionally applied paint, powder coating offers a superior finish combined with an excellent durability that will extend the life of the part. It is particularly beneficial for parts exposed to harsher conditions such as moisture and chemicals. Powder coating does not fade and is very chip and crack resistant, flexible, and can be applied to all metals powder coated truck wheel.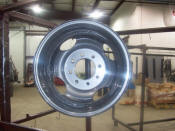 Surface preparation is key in successful powder coating, often the piece is cleaned using special cleaners or detergents specific to the kind of metal.
Powder coating guns
More commonly used guns are
Corona charging guns where electric power is used to generate the electrostatic charge. Corona guns are either internal or external charging.
Tribo charging guns where the electrostatic charge is generated by friction between the powder and the gun barrel.
"Bell" charging guns where the powder is charged by being "flung" from the perimeter of the "bell"
Not all powder is applied using guns. One system makes use of electrostatic tunnels.
Powder coating is available in many different finishes including metallics and special effects such as hammertone and antico. Also, just about anything made of metal can be powder coated such as automotive, motorcycle, atv, and racing parts. Don't forget other items like lawn furniture, bicycles, lawn mowers, etc.
for more information and pricing contact
Absolute Powder Coating, LLC.
202 Grotzinger Road
PO Box 838
St. Marys, PA 15857
Phone: 814-781-1160
Toll Free: 1-888-495-1222
Fax: 814-834-7770