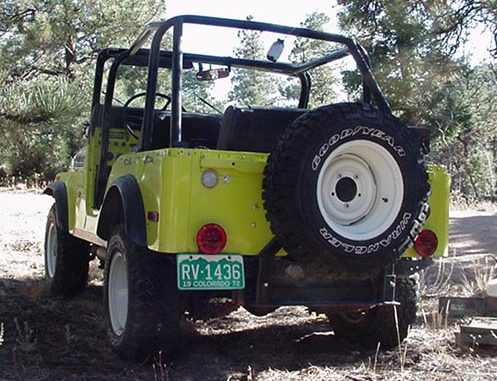 Identifying a Jeep – An In-depth Spotters Guide to the 72-75 AMC CJ-5.
When AMC acquired the Kaiser Jeep Corp in 1971 they made many changes to the Jeep line starting in 1972. Identifying a 72-75 CJ-5 is actually a rather easy task. In this article we cover some of the key features that ease identification.
Longer front end – 3 inches was added to the rear of the front clip to allow the AMC I-6 and V8 a better fit. As a result the CJ-5 wheelbase increased to 84″ from 81″.
| | |
| --- | --- |
| 72-86 CJ | Pre 72 CJ-5 and CJ-6 |
Engine Changes: AMC V8 or I6 – The Hurricane F4 and GM V6 were discontinued in the years after AMC purchased Kaiser.
| | |
| --- | --- |
| 232 & 258 I-6 | 304 V8. |
Rear mounted gas tank – a larger fuel tank was now available and was mounted under the rear between the frame rails.

Low mounted rear brake lights and high mounted reverse lights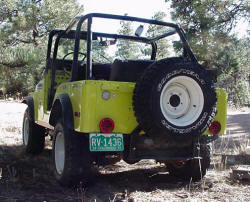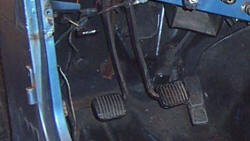 Hanging clutch and brake pedal and floating accelerator pedal.
In previous years the clutch and brake pedal passed through the floor. In the 72 and up CJ's the master cylinder was mounted on the cowl. The gas pedal was mounted to the cowl and not to the floor as in pre-72 CJ's.
Steering column through the dash – On pre-72 CJ's the steering column is attached to the bottom of the dash. 72-75 CJ's used a non-locking column that went through the dash. Post 1976 CJ's use a locking column.
Saginaw power steering and tie rod/drag link steering arms. This improvement made steering easier and alignment better.

Dana model 20 transfer case – Upgrade from the Model 18. Obvious difference – rear shaft exits on the top, front exits on the bottom. Model 18 – both exit on the bottom. The Dana 20 was an improvement in that only the top gear was rotating while running in 2WD. This cuts down on wear and noise. Dana 20 transfer case uses a single selector lever.

Dana 20
.
Dana 18
Dana 30 open knuckle front axle with drum brakes – Prior to 72 CJ's used the closed knuckle Dana 25 and 23.

Dana 30 (Disc brakes not available until 1976)
.
Dana 25
T-14, T-15 or T-18 transmission
| | |
| --- | --- |
| T-14 | T-15. |
The T-14 and T-18 was used in 6cyl equipped Jeeps and the T-15 was used in the V8 models.
Special trim packages – Renegade, Super Jeep, Levis



73 Renegade

.


SuperJeep
High "Jeep" stamping in the side of the body in front of the door using fancier, upper and lower case lettering.

72-75 Stamping
.
Pre-72 Stamping
Rear Dana 44 with a centered differential. With the use of the Dana 20 transfer case the Jeep required the use of a centered differential.