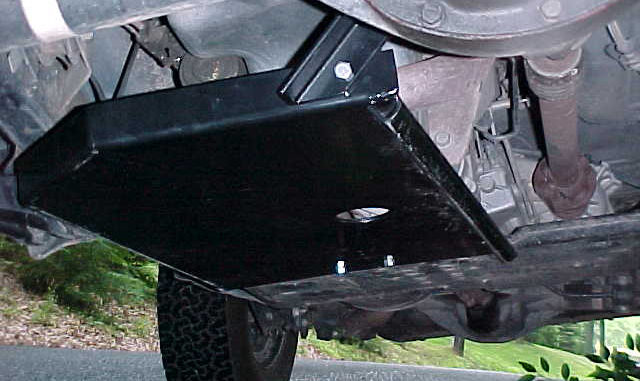 The driveline of a Jeep is typically the lowest points and will generally take the most abuse. Protecting these vulnerable parts will ensure your Jeep of making it off the trail in one piece and help you spend your money on new parts, not replacements.
Differential Covers
The stock differential covers are usually constructed of thin stamped steel. The front axle on a Jeep is the lowest point and acts as a bumper usually to rocks, gullies, and other trail hazards. A strong impact on a differential cover can shove the cover back into the ring gear causing potential gear damage and worse a oil leak leaving your entire gear assembly at risk.



unprotected differential cover


4XDoctor protected differential cover
note the carnage, image what the cover would have looked like without protection!
Several manufacturers make differential guards and stronger covers. Personally, I prefer the guard. It is easily replaceable and acts as a skid to aid the differential in overcoming the obstacle.
Engine and Bellhousing
The lowest point on a Jeep's engine is the oil pan. Rupturing the oil pan will put the brakes on any Jeeping day. An engine can only survive moments when starving for oil. Protecting the pan is essential. Several manufacturers make skid plates to beef up the engine area under your Jeep. These are insurance in protecting the vital underside of the engine.
If you are like most of us, you like to make your own solutions to problems. Ralph from www.offroaders.com came up with an oil pan skid for his AMC V8 in Project CJ-7. He fabricated a piece of steel to precisely fit the oil pan and attached it to the pan using silicone.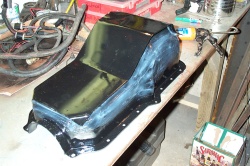 homemade skid plate for a V8 oilpan
On vehicles with a manual transmission the bellhousing if often not protected by the transmission skid plate and is exposed. Bellhousings are most always constructed of aluminum and can break with contact with an obstacle. Some manufacturers make aftermarket thick steel bellhousings. These might work for CJ's but usually are not available for YJ and TJ Jeeps. Some of these aftermarket housings are available with bolt patterns that make swapping engines easier.
SkidRow skid plates makes a Engine/Transmission skid that protects all components from the transmission skid plate to the oil pan.


Skid Row TJ Transmission/Engine Skid
Fabricating a skid to aid in saving your bellhousing is an option too. These skids can usually be attached to the existing transmission skid and attached to the bottom of the engine in a manner that is removable if service is needed.
Transmission
Jeep transmissions are usually protected by a skid plate from the factory. On a mild trail Jeep this skid can be sufficient but on a Jeep that sees a lot of large rocks something beefier is needed. Many Jeep owners replace the stock skid plate with a heavier, aftermarket skid that features thicker steel and heavier mounting areas. Another option is a "belly-up" skid plate that allows the transmission and transfer case to raised increasing the under clearance and raising the Jeeps break-over angle.


TeraFlex TJ Belly-Up skid plate
Some transmission conversions require fabrication or enhancement of the original skidplate. See Project CJ-7 – Armoring the Skid Plate – Converting a Dana 300 skidplate for a Dana 20 for reference on this project.
Transfer Case
As with the transmission, these are usually covered by the transmission skid plate if not, finding a pre-made skid is practically impossible. Fabrication is usually the only option. Some Jeep owners weld a thick piece of steel to the transfer case oil pan to help protect the threaded drain plug and keep the oil in.
Drive Shafts
A jeeps drive shaft is a very vulnerable part of the driveline. They are typically unable to support the weight of the Jeep plus a driveshaft turns. They can look like a bad day on the lathe very quickly when jammed up against an obstacle and turning. Tom Woods and Six States make heavy duty drive shafts that can be custom ordered in varying thicknesses and lengths.

Ground clearance and/or high pinion differentials are the only real options for protecting driveshafts. Keeping them out of harms way whenever possible is the safest bet.
Back to Protecting Your Jeep's Underside
on to Protecting Your Jeep's Underside – The Suspension, Steering, and Exhaust