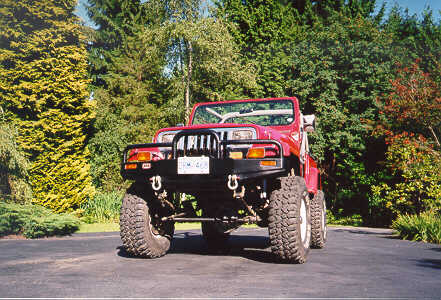 So, you're considering an axle swap. Many folks do them, even though they SEEM complicated. In reality, they are not really hard at all – given you do some basic planning before-hand and have the skills to tackle the work.
At that same endpoint, though, you'll enjoy the benefits of knowing your rig can handle the bigger tires, increased traction and tackle more difficult terrain without breaking.
Since there's custom work involved, you'll need welding skills handy. You'll need to find the axles – which will depend on your end goal and budget. You'll basically need to rework the driveshafts and steering, but this isn't as hard as it sound nowadays.Some companies will ship you everything you need from brackets to welding templates and complete axles built to your specs. You're in for a big bill if you go that route – thousands of dollars, easily, for the gear alone.
Folks choose axle swaps for a variety of reasons:
Driving a 4 cyl nets you much lower gearing than the 6 cyl guys enjoy
The desire for a specific gear ratio, though your current axles won't accommodate the ring gear size
Big tires (35″ and larger) will almost certainly need bigger, stronger axles – or lots of spares
Whatever the reason, here's some useful info on what's available, what it has and some basic ideas to get you started:
The Goal – Bigger Axles for a YJ
Many people consider swapping dual Dana 44 axles under their YJs (or TJs, or Cherokees, etc.). The stock Dana 35C has a bad rap for being a weakling with tires over 33″, and putting a locker in it with 33″ tires is a recipe for breakage. And while you're swapping, why not do the front as well? You might also want super low gears some day, and they may be lower than the 4.56's from the 4cyl rigs — these were the lowest possible in a YJ D30 without custom bits. In fact, you'd probably like to avoid custom-made parts anyway, just in case they need to replaced quickly.
General Axle Info
Vehicle: Stock '87-95 YJ (front D30, rear D35C)
Bolt pattern: 5 on 4.5″, same as TJ/XJ/MJ/ZJ
Width: 60.5″ rear, similar front
Brakes: Front discs, rear drums (10″ '87-89, 9″ '90-95).
Spline count: 27 spline rear
Caster: 6-8 degrees for manual tranny, 7-9 degrees for automatic.
Other: Front pumpkin is on the drivers side. Rear pumpkin & t-case output are offset 5/8″ to passenger side (right of center)
Vehicle: '87-89 Jeep XJ or MJ with the metric ton option (front D30, rear D44, often packaged with the towing option)
Bolt pattern: 5 on 4.5″ — same as stock D30 & D35 on a YJ/TJ/XJ/MJ/ZJ. Could this be redrilled to 5 on 5.5″ or 6 on 5.5″ to match another D44 front axle? Probably not, due to insufficient flange material outside the stock studs
Width: 60.25″ — virtually identical to stock YJ/TJ/XJ/MJ
Brakes: 10×2.5″ drums, vs the 9″ drums on a late YJ
Spline count: 30
Other: An excellent choice if only swapping the rear. Spring perches are different than a YJ, but that's not an issue for my SOA setup. The pinion is slightly (1/4″) offset (to which side?), so you can't use the same spare axle shaft for either side. Pinion U-joint is the same size as a '94+ YJ/TJ (Spicer 1330) but larger than an earlier YJ U-joint (Spicer 1310). Pinion length seems identical to D35, so no driveshaft length mods should be necessary.
Vehicle: '71-80 Scout II rear, '74-80 front
Bolt pattern: 5 on 5.5″, which allows wheel-swapping with any CJ if you need to borrow or lend a spare.
Width: 58″ front, 58.25″ or 58.5″ rear — 2-2.5″ narrower than a YJ. That's not a big problem in the rear (other than off-camber stability), but it'll reduce turning radius up front. Less wheel backspacing compensates for this.
Brakes: 11″ rear drums. What size front? Rear hard line junction is on opposite side of axle from YJ. Front brake line fitting is larger than YJ lines.
Spline count: 30
Caster: 0 degrees '71-79, 3 degrees in '80. A YJ wants about 7 degrees, so you'd have to rotate the knuckles on the axle tubes.
Other: Scout fronts have the diff very wide on the passenger side. This involves grinding to change the spring perch, and requires a t-case swap on YJ's. Tie rod mounting holes need to be redrilled closer to knuckles to regain a tight turning radius. Both rear axle shafts are the same length, necessitating only one spare, but the rear pinion is still offset 1.25″ to the right, which is about 5/8″ farther than the stock YJ.
Vehicle: '71-77 Ford Bronco (D44 front, Ford 9″ rear)
Bolt pattern: 5 on 5.5″ — same as a CJ
Width: 58″ rear, similar front.
Brakes: Front drums '71-75, 11″ front discs '76-77, 11″ rear drums. How wide are the rear drums?
Spline count: 30-spline D44 front, 260 (small style) U-joint, 28-spline 9″ rear (31-spline available in aftermarket)
Caster: ???
Other: Very stout combination, but the 9″ rear would give a hellish rear driveshaft angle on a SOA YJ. The coil suspension mounts will need to be removed from the front. The knuckle U-joint is the smaller D30 variety, but can be enlarged by swapping in F-150 shafts (long side must be shortened). Front diff is 3-4″ closer to center than the YJ D30, but clearance with an SOA is fine. Diff is on driver side, like YJ. Spring perch is not integrated into the diff housing. Rear diff is centered, but pinion is 1.5″ to the right of center. Like Scouts, the stock tie rod / knuckle mounting holes lose turning radius.
Vehicle: '74-91 full-size Cherokees & Wagoneers (SJ's)
Bolt Pattern: 6 on 5.5″ — same as Chevy 1/2 ton and Toyota. Can the rears be redrilled to 5 on 5.5″? Converting a front D44 to 5 on 5.5″ requires switching to knuckles, spindles and brakes from a '74-76 disc brake SJ or Chevy Dana 44 and hubs & rotors from just about any year Ford pickup (ask for '79 F-150 if buying new, and get bearings & seals from the same Ford). To do Nutter's high-steering swap, use '74-76 SJ knuckles as well. Pre-'74 SJ's had 5 on 5.5″ D44's, but with weak 2-piece shafts in the rear and closed knuckles up front.
Width: Narrow track (Wagoneers, Grand Wagoneers, and some Cherokees) fronts were 58.4″, rears were 57-59″, depending on who you believe. Wide tracks (some Cherokees) were about 6″ wider than that, or 62.5″ in front according to Louie Belt, who installed one. Kerry Embry claims narrow fronts are 60.5″ and wides are around 65″. I personally measured a narrow '82 Wag to be 61.5″ front and 58.5-59″ rear. The pinion on an '87 GW rear is offset 3/16″ to the right. J-truck axles are reportedly about 67″ wide. Obviously, YMMV.
Brakes: Approx 12″ front discs, 11×2″ rear drums.
Spline count: 30-spline D44's, 29-spline AMC 20's
Caster: 4-5 degrees
Other: All had Dana 44 fronts. '74-79 and '86-91 had D44 rears, while '80-86 had AMC 20 rears ('86 could be either). '74-79 had passenger-side front diffs; '80-91 had driver side diffs (needed for YJ with stock t-case). Short side spring perch partially overlaps the diff housing, but not bad. The '87 front pinion is offset 8-7/8″ left of center. AMC 20 rears were 1-piece with 29-spline shafts, but have narrower shafts & tubes than the D44, and the tubes are therefore more prone to bending at the housing, which causes breakage. Many auto trannies had the Quadra-Trac t-case & severely offset rear diff in '70's models. '86-91 rear D44s' pinions are offset 3/16″ right of center (with a 17″ driveshaft, that's a horizontal angle of 2.3 degrees). Part-time t-cases (Dana 20 or NP208) had manual locking hubs, while full-time Quadra-Trac t-cases (BW 1339, NP219, NP228, NP229) had fixed, locked hubs. The NP228 & NP229 (mid '80's) also had a vacuum disconnect front axle (like the YJ), which is inherently weaker than the solid axle shaft (like the TJ).
Vehicle: '78-79 Ford Bronco, F-150, F-250 (reverse-cut D44 front, left-hand drop) (F-150 had 9″ rear, F-250 had Dana 60)
Bolt pattern: 5 on 5.5″ (Bronco and F-150) or 8-bolt (F-250)
Width: Way wide (~65″)
Brakes: 11″ discs
Spline count: 30-spline D44 front, 297 (large style) U-joint
Caster: ???
Other: 297-style U-joints are stronger than the EB flavor, and identical to the '95-present Wrangler D30. The reverse-cut gears are inherently stronger up front than standard-cut gears, and provide a higher pinion with a better driveshaft angle (just like the stock YJ D30). The Ford-style manual hubs are internally-splined rather than held on with 5 or 6 bolts like most others, which makes them stronger and less prone to leakage. They can also be combined with knuckles, spindles, and brakes from a '74-76 SJ or Chevy D44 to get the high-mount steering arms. F-250's had leaf-springs and 8-lug wheels, while Broncos and F-150's had front coils and 5×5.5″ wheels. F-150/Bronco outers could be swapped into an F-250 axle to achieve leaf springs with a 5×5.5″ bolt pattern, or you could just cut off the coil suspension bracketry (no small task) from an F-150/Bronco axle, or you could use an 8-bolt rear end to match the F-250 front. Another big drawback is the width of the axle. Cutting it down means a broken long-side axle shaft can only fixed with custom hardware. Then again, it could be cut to the same length as an SJ long-size shaft, allowing use of an SJ shaft instead of a custom-cut F-150 shaft. Front differential location (at least on F-150/Bronco) is identical to the early Bronco (3-4″ closer to center than YJ D30). Like early Broncos, the stock tie rod / knuckle mounting holes lose turning radius, but this can be fixed with the high-steering mod. Most (all?) F-250's came with 4.11 gears. Some 1/2-tons had 4.11's, though most had higher gears.
Chevy 1/2 and 3/4-ton pickups had standard-cut D44 fronts, but they were full width and would have to be shortened to work, eliminating any hope of finding stock replacements if something broke.