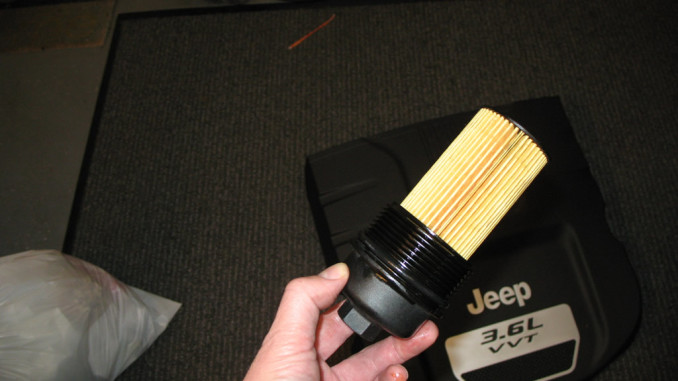 The jeepfan.com 2012 Wrangler Rubicon hit 3588 miles and the Change Oil indicator started showing on the instrument cluster after every startup.  Time for the first oil change..
The 3.6L Pentastar V6 uses a drop in style filter that makes installing a new filter a snap and can be changed without even laying under the Jeep.  Note: In 2014 the filter style changed.
Items Required
24mm and 13mm sockets and ratchet
6 quarts 5W30 Motor Oil
Oil Filter – We used a Fram CH10955 (2012-2013), Fram CH11665 (2014-2017)
Drain Oil Container
Funnel
Rags
Procedure
Pull up on the front edge of the top engine cover.  After pulling up you can pull the cover off the engine by pulling it forward.  There are hinges on the rear of the cover that hold it in place.
After the cover is removed locate the oil filter cap and using a 24mm socket remove the cap.  The filter will remain attached to the cap.  Pull gently on the filter and it will pop out of the cap.  Install the new filter and o-ring.