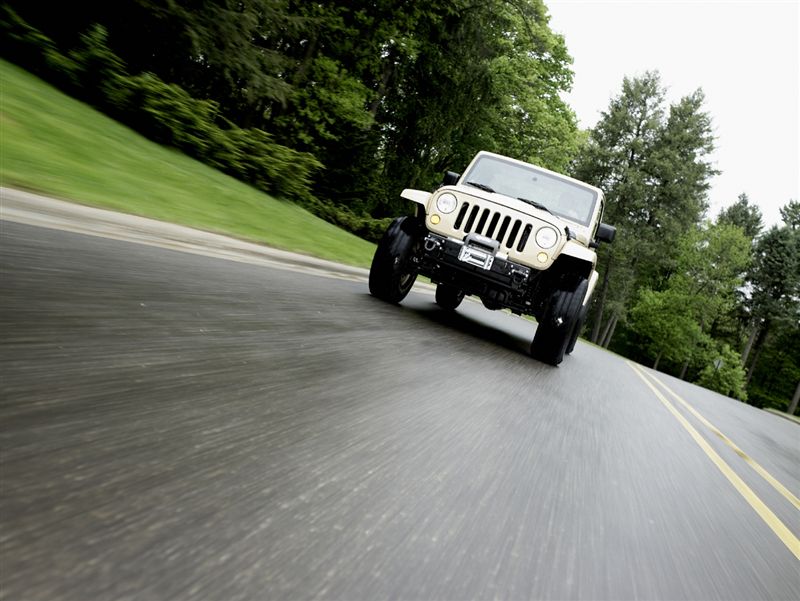 PRESS RELEASE: Chrysler teamed up with the guys at Skunkwerks to build the long waited for Jeep truck. Based on the JK Wrangler Unlimited the truck features all that is found in an unlimited along with a 5 foot bed. Skunkwerks equipped the Jeep with a 3″ lift, 35″ BF Goodrich Mud-Terrain tires, and a Ramsey winch.
According to Mark Allen, Jeep senior manager of the Product Design office, the JT was created from a chopped-up, two-door hardtop JK model with the addition of the steel bulkhead to divide the passenger compartment from the cargo area (from a Dakota pickup box). The JT is fitted with a five-foot truck bed cargo box measuring 47 inches wide by 61 inches long and sports a side opening tailgate as well as a removable top. The JT's pickup cab compartment retains the factory JK sport bar and the chassis uses the coil spring rear suspension of the civilian model JK (the military J8 has uses a Dana 60 and leaf spring suspension).
The JT truck prototype used the following:
Stock 3.8L V-6
Four-speed automatic transmission
NV2414:1 Rock-Trac transfer case
Front and rear Dana Model 44 axles with Tru-Lok electronic lockers
BFGoodrich 35×12.50R-17 Mud Terrain T/A tires mounted on Custom 17×8-inch steel wheels from Stockton Wheel (the JT was lifted to accommodate 35-inch MT tires)
American Expedition Vehicles new Heat Reduction hood
Ramsey 9500 UT winch
American Expedition Vehicles JK front winch mount
Mopar rear bumper
Paint color called Hearing Aid Beige (…yes that's right?)
Aftermarket Hood
Some in-cab components are from AEV (American Expedition Vehicles)
Motor Trend gave the Jeep a once over and provided some images along with the Chrysler marketing photos. Some of the images feature the JT tackling the trails of Moab.
Jeep should build this, period. A small truck capable of carrying light loads and getting in and out of the trail confidently is a niche that stretches back to the days of the Commanche pickup. Built on the reliable Wrangler platform and sharing lots of parts is a plus for the aftermarket. One request to Jeep…no swinging rear gate…a true truck has a drop down tailgate.
Credits: Jeep, Motor Trend