As of February 2009 the jeepfan.com JK Wrangler is 2 years old. 28,000 miles, 2 PA State Inspections, 3 sets of tires, and 2 lifts it's still just as fun to drive as the day it rolled off the truck.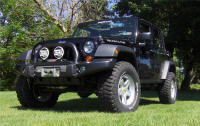 This Jeep has had a pretty good life so far. It has been dyno tested with several performance components, evolved from a spacer lift to a full spring lift and grown fromt 32″ tires to 35″ tires.
The Jeep has also hauled Mike's butt to and from his "real" job everyday without a problem while averaging 18 mpg. The Sirius Satellite Radio and cruise control make the daily drive a pleasure along with the dual tops which allow some enjoyment of the weather.
All in all this is the first Jeep that has been used so regularly by us and is proof that Jeep did so many things right with this version of the Wrangler. The extended wheelbase of the four door makes the Jeep's ride and handling so good sometimes one forgets it's a Jeep Wrangler.
The only problem experienced with the Jeep so far is the rear locker. The locker was defective from the factory and would not unlock. Jeep stood by their products and replaced it under warranty no questions asked.
The Jeep has seen a variety of trail use from backwoods log trails to rock gardens. Nothing extreme but some trails definitely put the JK to it's limits. The Rock-Trac transfer case with it's 4:1 low range and the front and rear lockers make the Jeep a pleasure to drive over the nasty stuff. It's amazing the amount of control that the gear combination of the Rubicon provides.
Take a look at the pages outlining the evolution of the jeepfan.com JK.
jeepfan.com 2007 JK Wrangler Unlimited Rubicon
Additions, Modifications, Projects, and How-To's