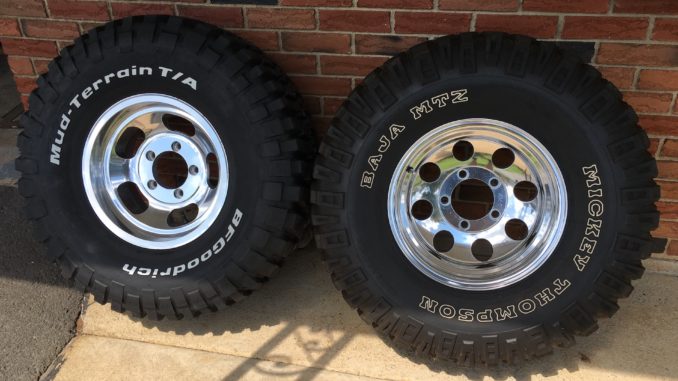 Often we get questions on what tires fit on what kinds of Jeeps with this or that lift, etc. In addition we get many questions asking on what wheels will fit on this particular Jeep or that.We have put together a guide to help you figure out what fits what.
CJ – 41-86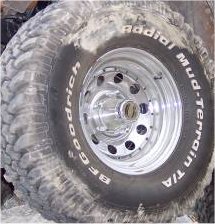 All CJ model Jeeps use the 5 on 5.5″ lug pattern.
YJ – 87-95, Cherokee 84-01, Liberty 02-07, TJ 96-06, Grand Cherokee 92-98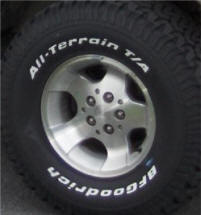 These models use the 5 on 4.5″ lug pattern.
JK – 07-up, all Commander, Liberty 08-up, Grand Cherokee 99-up
These models use the 5 on 5″ lug pattern.
Determining the proper lug pattern.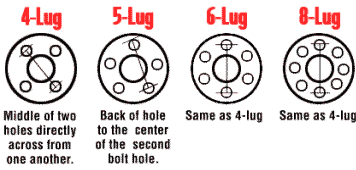 Use the above guide to properly measure lug pattern. Obviously you are most likely interested in the 5 lug measurement but you can see how other patterns are measured.
Adapting wheels from one model to another.

Spidertrax Wheel SpacerA few companies offer adapters to convert one lug pattern to another. Spidertrax, Teraflex, and OKoffroad make quality adapters. Adapters are usually 1.25″ thick and will add to the overall track width of the Jeep.
5 on 5.5″ Wheel

5 on 4.5″
Wheel
5 on 5″
Wheel
5 on 5.5″
Hub

not needed

no

no

5 on 4.5″
Hub

yes

not needed

yes

5 on 5″
Hub

yes

yes

not needed
Adapting to the CJ style hub is typically not possible due to the lockout hubs and axle flanges.
Important Things to Remember
Check backspacing to make sure that the wheels will not stick out too far. The adapter will add width.
See Wheel Terminology for more information on backspacing.
Running smaller than 16″ diameter wheels on a JK Wrangler may cause the wheel to hit the brake assembly.
Periodically check the adapter/spacer to ensure proper torque is maintained. Some manufacturers recommend every 3000-5000 miles.