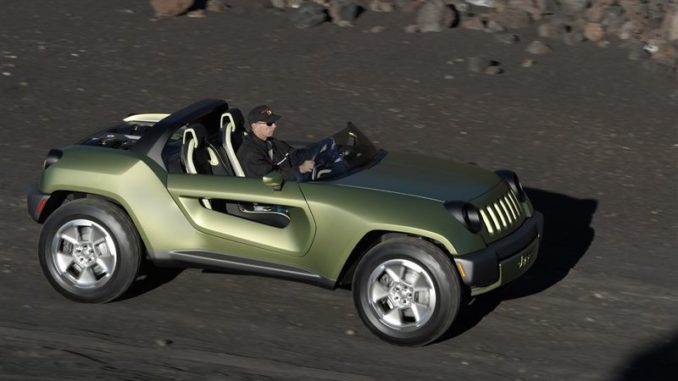 Hybrid, 110 MPG, Offroad Capable, Futuristc Styling
PRESS RELEASE Jeep has revealed it's latest Jeep concept vehicle called the Renegade at the North American International Auto Show. The two-seater Jeep is powered by two electric motors one on each axle delivering all-wheel-drive. The 16 kilowatt-hour lithium-ion battery module provides a range of 40 miles on a single charge.
Driving range is extended by a generator coupled to a small-displacement 1.5-liter Bluetec diesel engine. Renegade has a 400-mile range, and is capable of achieving an equivalent gasoline fuel economy rating of 110 miles per gallon.
While most electric vehicles are geared toward commuting around town, the Jeep Renegade is specifically designed for off-road performance. "With an electric motor powering each axle, the Jeep Renegade concept is designed for a 'hang on and have fun experience," said Tony Shamenkov, Jeep Renegade concept principal exterior designer.
The concept's lightweight aluminum architecture and regenerative-braking system help to improve overall efficiency, while the dual electric 200 kilowatt (268 horsepower) motors propel the truck with relative ease.
What do we think?
It's kinda cool but still a little too weird for the Jeep crowd at this point. Concept vehicles always can give us a glimpse of the future. An electric off road vehicle could be useful. The ability to apply power individually to each wheel could be an advantage.