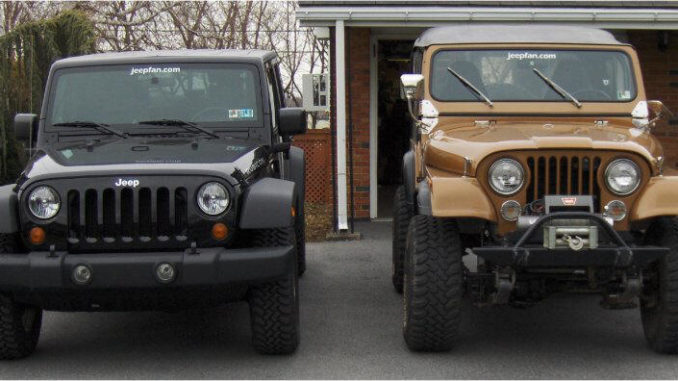 An in depth look at two different generation Jeeps, we put them side by side and see what's what.
In many places around this site we note the technical specs for these two model Jeeps so we aren't going into that here. See the Jeep Spotters Guide for model specifics. We wanted to note the fine detail differences between to two. Some details are drastic, some still maintain the Jeep tradition. We used the jeepfan.com 2007 JK Wrangler Unlimited and jeepfan.com 1978 CJ-5.
To start, general appearance. Click an image for a larger version.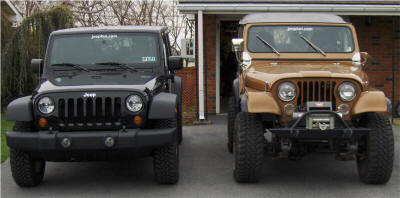 From a distance viewed from the front parked side by side you can see the similarities. Round headlights, squared boxy look. Rounded hood with exposed fenders and solid front axle. An interesting thing about the fenders…The CJ (and YJ and TJ) all had fenders which included a flare attached. The new JK has what has become known as "flenders". Neither a true fender or a flare, kinda both.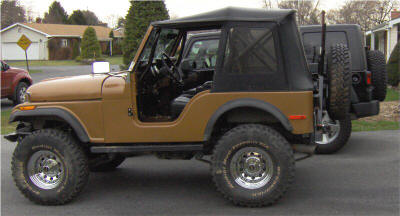 In the image on the left you can see the two parked side by side from the drivers side.
Immediately you notice the length difference between the stubby CJ-5's 84″ wheelbase and the JK Unlimited almost lengthy 116″ wheelbase.
You can see the leaf springs on the CJ. Another thing to notice on the CJ is the skid plate under the transfer case. On the JK although not seen here the underside is relatively flat.
The new JK has considerably larger wheel openings that allow installation of larger tires with less suspension or body lift.
The JK shown here is a Rubicon with stock 255/75R17 (32X10.5) BFG Mud Terrain tires, the CJ is equipped with 33X12.50R15 BFG Mud Terrain Tires. Only a technical 1″ difference in tire size yet the JK is stock with no lift, the CJ has a 3″ BDS YJ lift with about 1/2 inch body lift.
The image above shows a comparison of the difference in the new BFG (left) and the old. The left is a 32 the right is a 33. The 33 is a bit worn but does still show a size difference between the two. The tread pattern on the new BFG is updated to provide improved traction in snow and rain. The width difference is obvious too.
Wheel Backspacing. The new JK wheels have a HUGE amount of backspacing. See the blog for a definition: What is Backspacing. The JK also uses a 5 on 5″ lug pattern. The CJ uses a 5 on 5.5″ lug pattern. A YJ and TJ use a 5 on 4.5″ lug pattern.
The JK uses a whopping 6.5″ backspace on the 17″ Moab Rubicon and Sahara 18″ wheels. The 16″ standard wheels are 5.5″