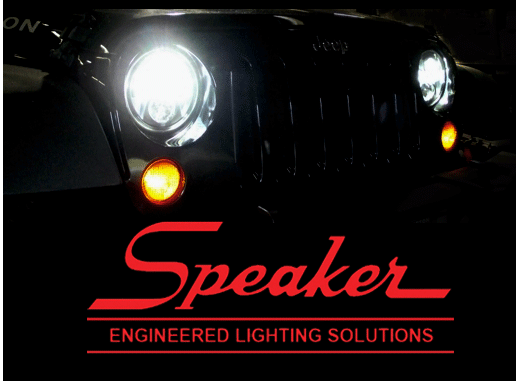 Its hard to deny that the stock 2007+ Jeep Wrangler JK headlights are horrible. Talk to any Jeep owner and they will tell you that they wish they could change their headlights to something that outputs much more light.  OK Auto is selling a new conversion kit that allows plug and play installation of Speaker's LED lamps.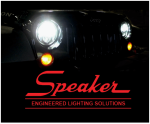 There are several upgrades out there, but none as of this quality, looks, and price. Introducing the J.W. Speaker Model LED conversion headlamps for 2007+ Jeep Wranglers. These headlamp systems are ECE and DOT approved — they meet the requirements to be used in Europe and the United States. These lights also meet the United States Military requirements. What does this mean? An extremely durable, road legal headlamp replacement kit that outputs much more light than the stock units. The greatest part? This product is made in the U.S.A.
1,900 Raw Lumens; 950 Effective Lumens
12-24V DC configuration
High/low beam
Durable glass lens stands up to harsh environmental conditions
Rugged solid state LEDs can withstand shock & vibration
Long-lasting LEDs mean never having to replace another bulb again!
Die-cast aluminum housing provides maximum protection
Retrofits type 2D1 "PAR56" sealed beams
Lens Material : Glass
Warranty: 4-year Limited Warranty
Housing Material : Die-Cast Aluminum
Mounting : Replaces PAR56
Mating Connector: Various Options Available
Technical Product Specifications:
12-24V DC Input
2.500 Amps @ 12V DC
1.300 Amps @ 24V DC
Raw Lumen Output: 1,350 (Low Beam); 1,350 (High Beam)
Effective Lumen Output: 650 (Low Beam); 760 (High Beam)
DOT Approved
FMVSS 108
CMVSS 108
Buy America Compliant
Sealed to IP67
Kit includes: (2) Model 8700 LED High/Low Beam Headlights & (2) Plug-N-Play H13-H4 Conversion Harnesses
Please Note: 2012 JK models may require air bag sensor modification for installation.
OK has installed several of these into Wrangler's with excellent results.
Contact OK Auto for more information and pricing.