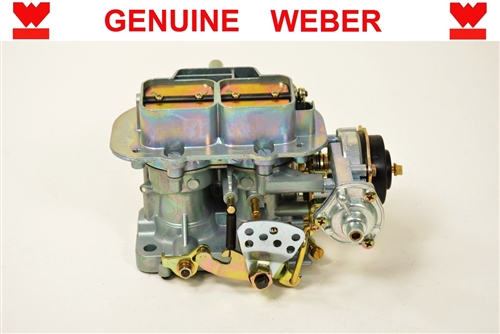 Recap: In the last few years of the CJ series and the first few years of the Wrangler YJ Jeep outfitted the 4.2L (258) 6 cylinders with an electronic carburetor referred to as the BBD. The Carter BBD is a two barrel carburetor that came in two variations, one is computer controlled and has a stepper motor on the back side. The computer controlled version was used after 1981. Both have similar problems and considering they haven't been "new" in approximately 20 years alternatives are sometimes the best option to regain reliability and performance.
The BBD carb has a nasty reputation, most anyone that has owned a Jeep with one of these can relate. Sputtering, stalling, stalling at every stop sign and only running off idle. Very frustrating to deal with.
There are several popular alternatives; electronic fuel injection systems by Mopar, Howell, Holley and the home grown; carburetors by Weber and Motorcraft. We will explore the positives and negatives in all three types.
Carburetors
Carburetors are simplistic in design and operation compared to electronic fuel injection. Typically all mechanical, the amount of air moving through the carb dictates the amount of fuel being delivered. Usually carburetors have a fuel bowl that stores a small amount of fuel, an electric or manual choke, and vacuum ports. System failure with a quality carburetor is uncommon when compared to fuel injection systems with computers and sensors. A drawback to a carburetor is they are prone to flooding the engine when the Jeep is at extreme angles.
NOTE: Some of these carburetors may not be emissions legal – check your state before purchase

Weber – This is probably the most common carb conversion for the 6 cyl Jeeps. The Weber is a very reliable, all mechanical carb that improves performance and drivability. The Weber is designed to supply the proper amount of fuel determined by the demand put on the engine. When demands are small, only the primary barrel is used, and when demands increase, the second barrel is used in to deliver the performance needed. Use of thie carb allows removal of all the electronics associated with the BBD.
The 32/36 DGEV model claims 18% hp increase over the stock factory carb as well as 10-20% fuel economy increase. The 38 DGEV model is designed for higher power applications where headers, cam, and aftermarket intake manifold are used. $$

Motorcraft – This swap is the least expensive and can provide excellent results. While none of us here have personally performed this swap research has shown others have been very pleased with the outcome. Most agree this swap will definitely make your Jeep non-emissions legal. What to use: A Motorcraft (sometimes called an Autolite) 2100 series carb typically found on an AMC 304 or Ford 302 and a 2bbl manifold if your Jeep is not equipped with one. The correct size will have "1.08" in a small circle cast on the drivers side of the carb body. An adapter will be required to fit the carb to the Jeep manifold. A 2bbl to 2bbl adapter from TD Performance Products adapter no. TRD-2086 should do. Some changes to the throttle cable assembly and other components may be necessary. $ Rocktaxi.com has an in-depth article on this swap, if you are interested visit them for more info.