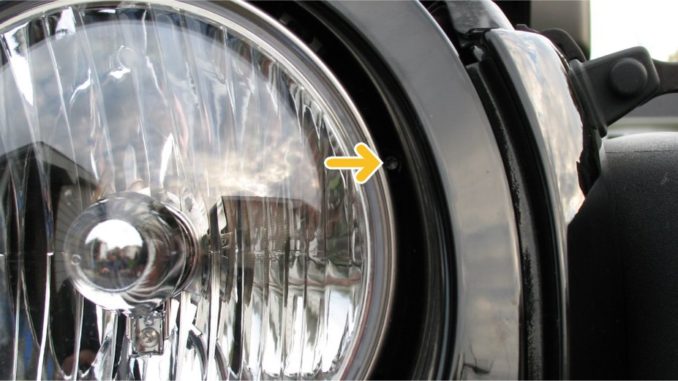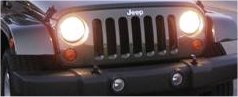 The new JK Wrangler uses new style headlight lenses with bulb inserts instead of sealed beam bulbs found in previous model Jeep Wranglers and CJs.
After installing lift kits and/or larger tires you may find an increase in "dark space" directly in front of the Jeep. This is due to the increased height of the lights and the light angle is casting out further ahead.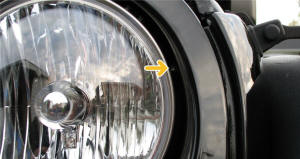 The JK Wrangler has one adjusting screw found on the upper outside quarter of the light. It is not necessary to remove the grille to adjust the light.
Since the JK only has one adjuster per light it is not possible to adjust the light on multiple axis. All adjustments will be a slight compromise.
One of the Jeep forums had someone report that the the reason there is only one adjustment bolt is because there is an option to have your head light beam adjustable by an electric motor. This however is only installed on JK's where electric adjustable headlights are required. It would be more expensive to adjust the head light on two axis than with one motor that can adjust both, with some limitation, at the same time. We haven't confirmed this statement.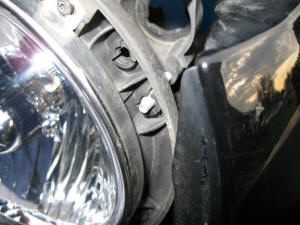 A generally accepted method of manual headlight adjustment is 2 inch drop per 25 feet from the vehicle. A lifted Jeep will still maintain the proper drop but where the lights hit the road will be further out.
Procedure
This procedure is meant for us DIY types. An auto repair shop or dealer can precisely adjust your Jeep's lights (and also cost you $ too)
On a level surface drive the Jeep as close to a flat surface as possible. Using tape mark the center point of the lights. Back up the Jeep 25 feet and note the drop in the lights from the center line. Try lowering the lights by backing out the adjuster screw. It may be best trying to lower the lights 1-2 inches at a time and test drive the Jeep to check the alignment. Typically you can adjust the lights about 1/2 the same size as your lift.
Don't forget a 2.5″ lift and 2″ taller tires equal 3.5″ of lift.