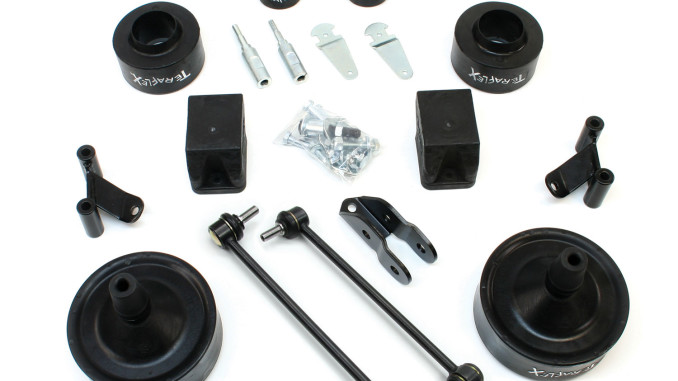 We get many questions from Jeepers..many new Jeep owners ask us what they should do to get their Jeep on the trail and keep their budget under control.  At jeepfan.com we represent the "everybody" Jeep – the ones that get driven every day to the ole' grind but also have some weekend fun on the more challenging trails without tearing everything up.
So we put together our list of stuff to start with.  This recipe will get you through the trails and cure the condition known as "Stock Jeep Traumatization Syndrome" aka OEM DUM
Lift & Tires
A good lift and tires will be the most significant modification to your Jeep that will get you through the rough stuff.  Luckily the good people at Jeep gave us a Wrangler that is so ready for the trail right out of the box that tires and lift are so stupid easy.
Many people go for 37's and 4″ of lift right off the bat and experience the negatives that come with it.  Poor street driving, bad mileage, death wobble, etc.  That extreme is awesome on the trail but it's not what many of us need.
Let's focus on the goal here 2.5″ of lift and 35″ tires.  This combo will do wonders for both a 2 and 4 door Wrangler, it will give you that needed clearance and a look that balances out the JK perfectly.  A 2 door could do a 2″ lift with 33's and perform near as well due to shorter wheelbase.
Since the JK has been out we have preferred Teraflex products so it's natural it's part of our recipe.  Prices we list are ones found on the Teraflex website.
Lift
The JK's stock suspension is so trail worthy for the kind of Jeep we are building why not keep it and enhance it.  The Teraflex budget boost lift is much more than just a space lift.  It's an entire system that can retain your Jeeps springs and shocks.  The kit includes extensions for your stock shocks, a track bar relocation bracket for the rear, and sway bar extensions.  Add this lift and keep the stock ride and handling – nice!
If you want to call it a compromise you will not get the flex and wheel travel with this kit you would with an actual spring lift..it may not matter though – This kit works especially well on a Rubicon.  The Rubicon's lockers can make up for a little bit of flex and wheel travel lost.  We've ran both styles of lifts and really..it's a tough call.
We have used this budget boost on other jeepfan.com JK's and love them.  You could stop there with the lift but we like to add the Teraflex Monster track bars to adjust axle centering.  These track bars are a great solution to the dreaded death wobble experienced with larger lifts – this should not show itself with this lift.
Teraflex Lift Parts
2.5″ Budget Boost Lift Part #1355210 – $365.99
Front Monster Track Bar Part #1753418 – $261.95
Rear Monster Track Bar Part #1754418 – $251.99
Tires, Tire Carrier, and Wheels
The Duratrac by Goodyear kind of appeared out of nowhere and have become a favorite tire by many.  This tire offers great aggressive tread along with enough sipes to make these tire fit so many situations.  They run quiet compared to other similar tires, wear excellent, and are relatively light.  The D rating is perfect for a JK.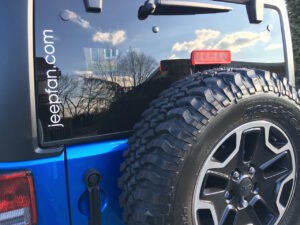 We always like the factory wheels and the newest Rubicon "snow flake" wheels are a favorite.  Retaining your stock wheels will save you money as well as keep your Jeep in the "mod-stock" look.  Running 35″ tires will require the use of wheel adapters (often mis-called spacers) to push your wheels out to prevent rubbing.  Quality wheel spacers will provide a safe means to move your tires out of the way.
Now the tire carrier – while this is a bit off task from our lift/tire project but it's not something to be ignored.  Putting a 35″ tire on a stock JK tire carrier is often not possible without an extension.  This extension often moves the tire up and out.  This increases the load on the carrier and more importantly the tailgate.  Many have reported spot welds coming apart and excessive rattle from the added load.
Often properly running a larger tire requires a separate tire carrier/bumper solution – this can get expensive quick.  Teraflex makes a unique carrier that enhances the strength of the tailgate hinges and allows the hinges to support more of the weight of the tire rather than the tailgate itself.  Along with the strength comes adjustment to the tire location.  This allows you to keep the tire close to the vehicle to minimize leverage.
Tires, adapters, and Tire Carrier Parts
Goodyear Duratrac in 315/70/R17 size – $305
Mounting and balancing – $25
Teraflex 1.25″ 5×5 wheel adapter Part #1055000 – $101.99 (2 needed)
HD hinged carrier & tire mount Part #4838150 – $699.99
So after all this we have spent a little over $3K and have added some real significant components to our Jeep – BTW, we are implementing this exact recipe on the jeepfan.com 2016 JKU RHR.  Each item listed above will link to the project details as they are installed.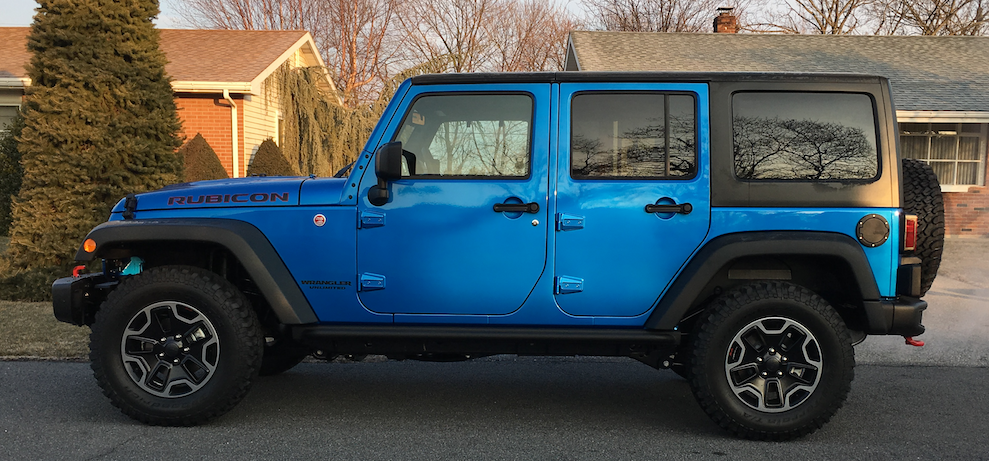 Above is the stock jeepfan.com 2016 JKU RHR.
The Installs
Below are links to the installation of all these components.  Check out the completed product below.
Teraflex Goodies
Goodyear Tires
Completed Project Gallery