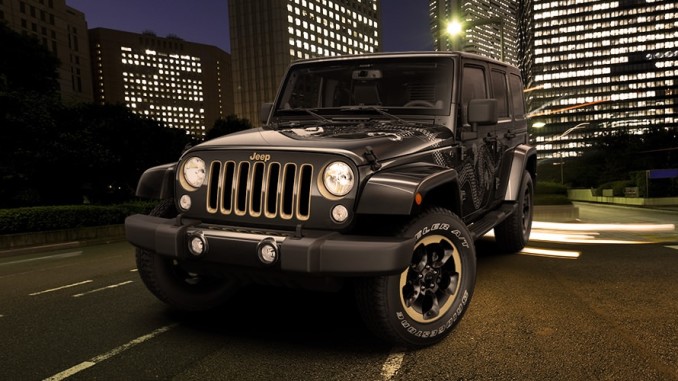 Accented with attitude..is what Jeep calls this new special edition JK for 2014.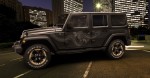 Character is at your core. You humbly seek to help others in times of need. Often, your efforts are unseen – but they are not unnoticed. You are inquisitive, curious and above all, courageous. Make your night live longer and the moment stronger in the All-New Jeep® Wrangler Unlimited Dragon Edition.
This special edition Jeep features special accents and presents an interesting look.  The black and gold remind of the Golden Eagle models.
On the outside the black paint is accented with dark charcoal metallic dragon decal that extends from the hood to the doors.  The grille area is accented with gold trim in the headlamps and grille slots.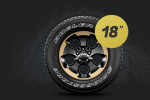 On the road side the edgy, 18-inch cast aluminum wheels offer a striking appearance in any environment. The five-spoke wheels feature a two-tone dragon bronze satin gloss outer edge that complements the matte black center and black lug nuts. Wrapping the rims are Bridgestone® all-terrain tires.
Inside of the Jeep is plush with special, model exclusive leather seats etched with gold trim.  In addition to the seating there are gold trim accents throughout the instrument panel area and a special dragon grab bar.
As well as the special trim the Jeep is equipped with an Alpine 7 speaker sound system to help with the tunes.
Additional special equipment on the Dragon Edition includes Mopar Fuel Cover, Premium Side Steps, and custom matching hard spare tire cover.
The Jeep is equipped with the standard running gear found on all JK's including 3.6L V6, Command Trac 4×4 System, Removable top, and more.
Visit jeep.com for more information.