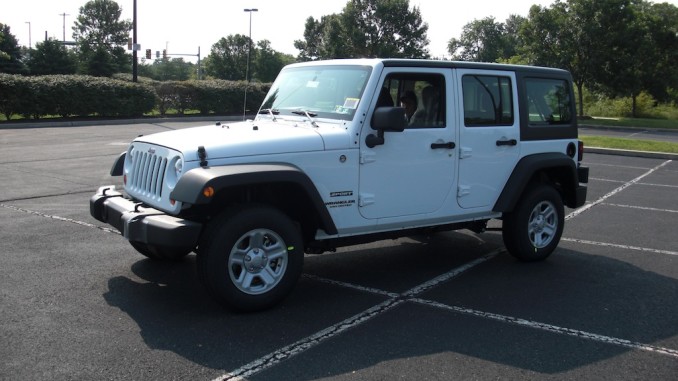 The guys at Sands Jeep in Quakertown, PA called us the other day and said they received a 2012 Wrangler with an automatic and invited us for a test drive to see how the new 3.6L engine compares to the old 3.8L.
The Jeep was a bare bones 4 door with an automatic, hard top, 3.73 axle and air conditioning.  Little bitty tires on the factory 16″ steelies where on the bottom.
Off we went.  Now I peruse the Jeep forums all the time and have read 100 posts from people saying there is no power difference and 100 posts that say it's night and day.  Having driven a 6 speed JK for over 4 years I believe I can definitely say there is a night and day difference.  Even the fact that it's automatic and the AC was on the Jeep had power to spare and was a pleasure to drive.
If y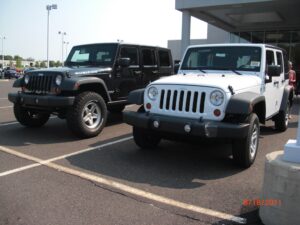 ou expect it to be a torque filled 400HP Hemi you will be disappointed but it's fast and responsive.  The tiny tires and 3.73 gears probably help this Jeep with it's get up and go.  It's sure that 35″ tires would alter the feel of the Jeep but it would still be way better than it was.
Normal driving was near thoughtless.  The transmission seemed to shift appropriately and not excessive.  There were a few times we need to put our foot into the throttle to get the Jeep to downshift and stop lugging along.
It is our opinion that this engine is a good fit for the Jeep and has been worth the wait.
This experience makes us even more anxious to get our hands on the new jeepfan.com JK.  At this writing our wait may only be a few more weeks.
Check out the video.