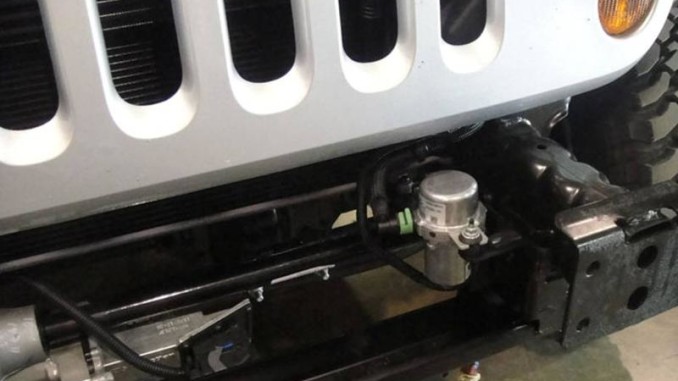 The new engine and transmission combinations seem to have brought about some changes in the Jeep that may affect installation of aftermarket accessories.  We have put together a list of known changes and possible solutions.
Bumpers
There is a small pump located between the forward frame area.  This pump may interfere with aftermarket bumpers and/or winches.  Currently LOD makes a relocation bracket to accommodate their bumpers.
Contact Northridge 4×4 for more info on the bracket.
OR Fab Makes a real nice relocation bracket that moves the entire pump inside the engine compartment.
Engine
Knowing that the 2012 Wrangler is equipped with an entirely different engine would make it obvious that most engine add ons would be incompatible.  Cold Air Intakes, computer chips, throttle spacers, and exhaust systems would be just a few items that will need to be re-designed by the aftermarket.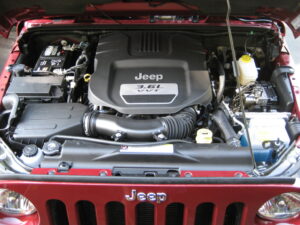 2012 Wrangler Engine Compartment.
Re-Gearing
The new automatic transmission will not function properly if the axle ratios are altered.  The Jeep will enter limp mode and only allow you to drive slowly.  This mode is used to allow a malfunctioning vehicle to get safely off the road.  Currently AEV is working on a new version of the ProCal module to allow gear changes.
Lift Kits
Evidently there are minor changes to the front control arm brackets that will cause long arm kits and certain kits with control arms to not fit correctly.  AEV has an updated version of some of their lifts that are affected.
Exhaust
The new engine has an entirely different exhaust system which will cause interference with the front driveshaft on Jeeps with 2.5″ of lift or more.  Currently Teraflex offers an exhaust spacer kit that will allow lifts up to 5 inches.  Teraflex Exhaust Spacer for 2012 Wrangler
The above pictures were taken with the Jeep on a lift and the factory suspension fully extended.  The shocks are the limiting factor in the typical Jeep.