Recently the jeepfan.com 2012 Wrangler's check engine light came on.  Knowing that it needed to be addressed we took it to our local Jeep dealer, Sands Jeep in Quakertown, PA and had them read the problem code.
It turns out the engine is showing a misfire on cylinder #2.  In fact, this is a known problem with early 2012 Pentastar V6 engines.  The tech at the dealer indicated that there is a manufacturing defect in the cylinder head that causes this symptom and the probable solution is replacement of the head.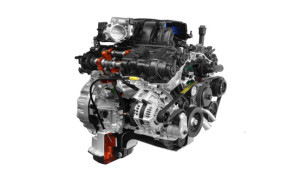 We dropped off the Jeep at Sands, they were nice enough to provide a loaner car (Chrysler 200 – nice little car by-the-way) and work began.  The dealer called and said they would need to replace the head and should have it done in a day and a half.
UPDATE: The Jeep was fixed and runs great – perhaps a little better than before.  The dealer did end up replacing the cylinder head.
Related articles:
Chrysler Pentastar V6 Subject to Cylinder Head Failure
Chrysler replacing cylinder heads on select Pentastar V6 powered models