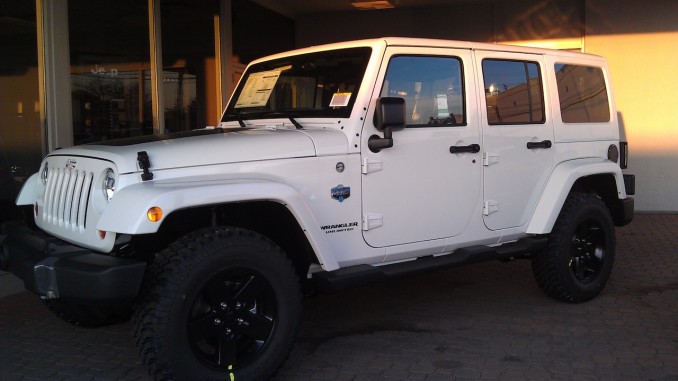 Driving by a local Jeep dealer and spotted a new 2012 Wrangler Unlimited Arctic Edition.  The Jeep was an amazing white color (not done justice by the camera).  The matching flares and top made the Jeep nothing but blinding white.
The special edition is mostly a feature package.  The Jeep is equipped with the same drivetrain and engine found in other 2012 Wranglers.  The Arctic is based on the Wrangler Sahara package.
Some special model features..
Ice blue paint
Matte black 17″ Moab wheels
32 BFGoodrich Mud Terrain tires, the same ones found on the Rubicon
Special decals on the hood and front fenders with Yeti footprint
Specal badges above the Wrangler decal on the side
Special leather seats with Arctic logos
White interior accents
2012 Wranglers are equipped with the 285HP Pentastar V6 and 5 speed automatic/6 speed manual.  In 2011 Jeep gave the Wrangler an interior facelift with a redesigned dash, steering wheel, and seats.