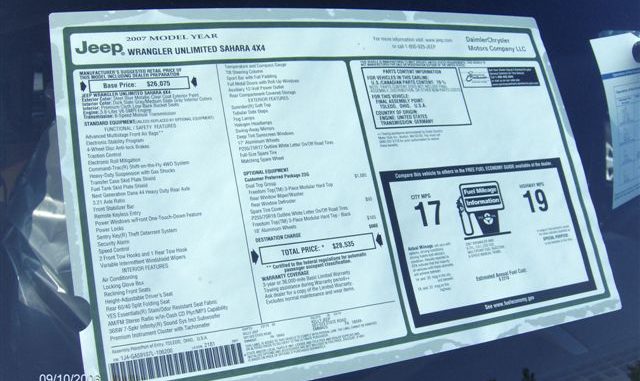 It was a nice end of summer afternoon and I was running some errands. I went by Kelly Jeep's lot and out of the corner of my eye I spotted a new Wrangler. I was like "OH MY GOSH, THERE IS NEW WRANGLERS BACK THERE!" Needless to say I almost spun the Liberty around right there. I calmed down briefly and made a legal turn around and went back to the lot. There were 3 new Wranglers there, two Sahara's (Rock Red and Steel Blue) and one X (Black). I pulled out my camera and gave them all a good once over. At first impression I was impressed. Lucky for me one of them was unlocked and I took the opportunity to get inside and feel it out, lucky for Kelly I am a honest person that would never deface a Jeep!
| | | | |
| --- | --- | --- | --- |
| | | | |
| | | | |
| | | | |
| | rear seat | rear door open | cargo area |
| | looking back from the front seat | | |
I liked the feel of the interior. It still feels like a Jeep…cozy, but a bit wider and deeper. The controls were easy to reach and laid out in the right places. It was very unusual looking rearward from the driver seat and seeing so much space behind me. The new Jeep is long, not quite as long as I though it would be from all the pictures I have seen. The interior room is impressive. The storage space behind the rear seat is plentiful. I'd say it easily rivals the Liberty. It was cool to see the power window and lock controls. I checked out the whole removable sections from the new Freedom Top. A few latches and some sliding locks and off the panels come! This Sahara was equipped with a dual top and a 6 speed. The X and the other Sahara were automatics.
| | | | |
| --- | --- | --- | --- |
| | | | sound bar |
| | | | |
| front steering knuckle | looking rearward | driver side control arm | rear driveshaft |
Naturally I had to lay down and check out the underside. I was happy to see all the things that make a Jeep a Jeep in place. See the above pictures to see for yourself.
| | | |
| --- | --- | --- |
| gas tank skid – heavy! | muffler – where gas tank used to be! | looking forward |
| Dana 44 rear, see the gas tank filler | rear disk brakes | rear tow hook |
| Wrangler X rims | | |