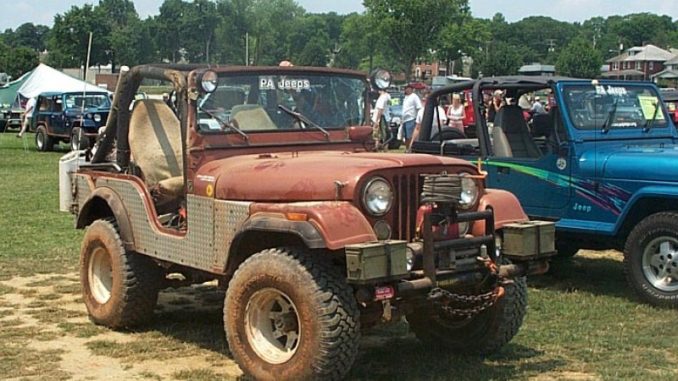 This 1974 CJ belongs to long time PA Jeeps member Robert Behler and is a staple of the PA Jeeps All Breeds Jeep show since perhaps the beginning. While we don't know the owner it's become a thing to see what has changed with this Jeep annually over the years. We've dug back in the archives and put together a photo gallery showing every year we captured a picture.
The Jeep is an AMC era CJ-5, running 33″ BF Goodrich Mud Terrains on old school 15×10 white Jackman wheels. There is a near endless list of accoutrements on this Jeep.
AMC 6 Cyl
On-board Air System
Hi Lift Jack
Winch
Custom high exit exhaust
Tire Chains
Full Roll Bar
Fuel Cans
Lots of diamond plate, tools, cables, straps, rope, and lights.
Someday we will learn the actual purpose of the mirror on the front bumper, only speculation at this point.
In an ever changing world this is one thing that seems to remain static..Keep it that way Robert. If anyone has some older pictures of this Jeep drop us a line.