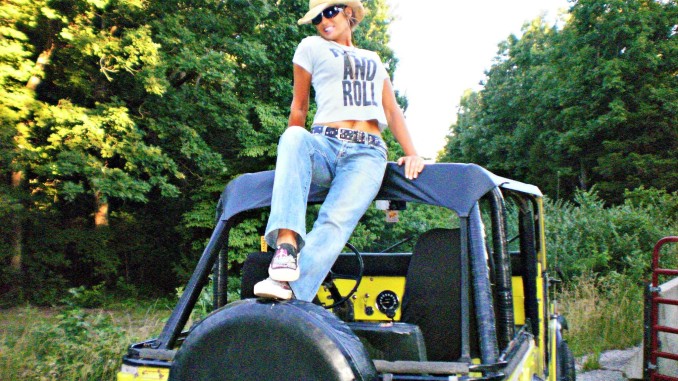 It's commonly known our inability to resist an early 70's CJ Renegade and when we found Lisa's we knew we needed to know more about it.
Lisa's Jeep is a late 1974 CJ-5 Renegade.  The Jeep is equipped with an AMC 304 V8, black steel spoked wheels, Cooper Discoverer tires, and a custom roll bar.  The Jeep is still sporting it's original paint, which it wears well.
There is something special about an unrestored Jeep and it's great that the Jeep community seemingly appreciates Jeeps in the "rough and tumble" condition more than the shiny trailer queens.
You can see Lisa loves her Jeep and likes to show it off in interesting ways. 😉  Her and her Jeep have been featured in 3 calendars…Jeep Girls Finish First, Jeep Girls, and Jeep Porn.  In addition to the calendars they have been in JP Magazine, 4×4.com, and theChive.com Jeep girls.