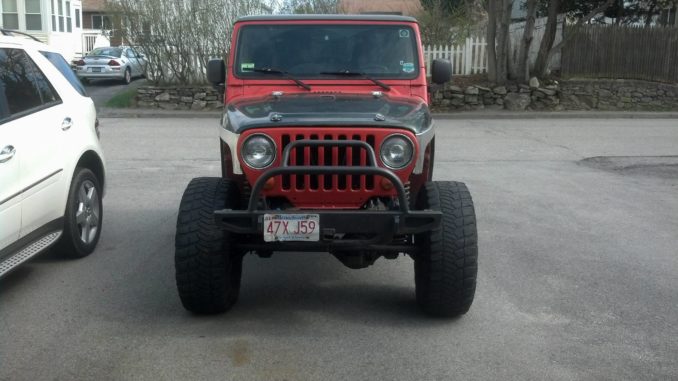 John's 2005 TJ Wrangler Rubicon is an interesting Jeep with some features not commonly seen within the community. The fact that the TJ is lifted and running 37″ Irok tires on Moab wheels isn't what makes this Jeep as unique looking as the presence of custom fitted Wrangler JK flares resulting in a clean, home brewed high clearance fender setup.
The clever integration of the much larger JK flare (or is it a fender?) seems so natural one might walk by and not notice. Since AEV discontinued their high clearance fender kit Jeep owners have had to get creative. JK flares are plentiful and relatively inexpensive and will not rust in the New England weather.
The outer skins were formed from .60 aluminum sheet, bent on 2 sides and the curvature was shaped on a shrinker/stretcher. The larger front and rear flares allow 37's to fit with no rubbing.
Underneath the Jeep sports an Nth Degree long arm lift, WJ knuckles/brakes, TnT High Steer track bar & brackets, Ruff Stuff steering, Tom Woods Shafts and many other mods. John bought the Jeep new and it shows 204K miles.
John's 05 Impact Orange Rubicon has a unique story to it's beginning. It was the first orange one in Worcester County and was the display at the DCU Auto Show. To add it was a rare color combo that used the grey hard/soft top when later models only came in the black/orange combo.
Unfortunately the Jeep was involved in an accident and is currently under some frame repair. John is working on some more customization involving a stretched wheelbase and JK steering box.
This kind of a custom Jeep always makes a great story. The Wrangler TJ in recent years is entering the modification and building status held by the CJ years ago.