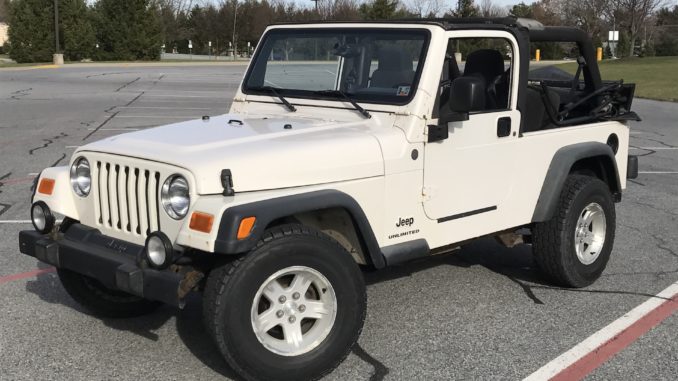 Presenting the newest project to join the jeepfan.com Jeeps. Moving backward to 2004, the first year of the TJ Wrangler Unlimited is where we wanted to start a new project as part of our new book being published by CarTech Books. The new book with a working title, Jeep Wrangler TJ 1997-2006 Building and Modifying will outline what it takes to build this groundbreaking Jeep for maximum performance on and off road.
We chose the Wrangler TJ Unlimited for it's added length which results in increased interior room and improved street handling. In addition the TJ Unlimited offers a unique look from its extended wheelbase.
Finding a TJ Unlimited can be a bit of a challenge since they were only available from 2004 to 2006 and were made in smaller numbers then the regular TJ. The regular Wrangler TJ model still fetch a good buck, especially ones that are in good shape, the TJ Unlimited hold value even higher since they are more rare and sought after. After looking for several weeks we found one on cars.com only 2.5 hours away at Sherwood Groves Auto Group in Towanda, PA. The Jeep is a white 2004 Unlimited with automatic, A/C, and cruise..that sounds all good but it came with 193,000 miles, which can be trouble if the Jeep wasn't cared for.
With help from Ralph from offroaders.com we took a ride to give the Jeep a once over and make a decision. Upon arriving at the dealer we found the Jeep running and waiting for us. First thing we noticed was that the engine was smooth and quiet, a good indication of proper care. Upon crawling around underneath we found the Jeep filthy like it had been driven often on dirt roads but there was no indication the Jeep had ever been on the trail. There was a lot of surface rust on the frame and suspension but everything was solid inside the frame including the body which had some minor exterior rust – no big deal.
We took the Jeep for a test drive and the engine was strong, ride was so so – like a vehicle with 193,000 miles. This wasn't a big deal since nearly all of the suspension will be replaced. We tested the 4wd system and all the other gadgets, everything seemed to work. The deal was made and we began our trek back to home base.
If you ever have an opportunity to visit Old Forge PA you need to stop and have some pizza. Old Forge considers themselves the pizza capitol and we were sold on it. We stopped at Arcaro and Genell and make short work consuming the tray of pizza and a beer.
The rest of the trip home was PA Turnpike driving, which the Jeep handled flawlessly. 70mph on cruise made the hour plus drive go by comfortably. Now that the Jeep is home the project begins.