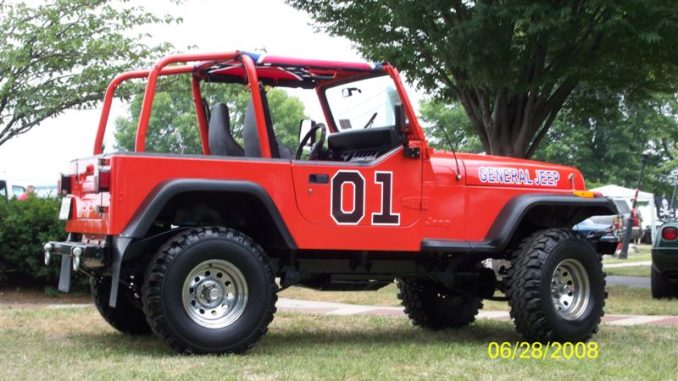 The General Jeep – John Vavra's YJ Wrangler is modeled after the Dukes of Hazzard General Lee. Sporting bright orange paint and the familiar 00 this Jeep sure gets attention.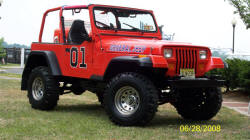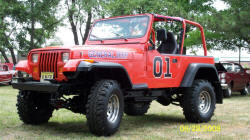 This Jeep has parts from a variety of Jeep vehicles
The factory 2.5L was replaced with a 97 4.0L HO engine
Flowmaster Super 44 Exhaust
93 Wrangler Wiring Harness
95 Cherokee AX15 Transmission
92 23 Spline Transfer Case with Slip Yoke Eliminator
Tom Wood's Rear Drive Shaft
4.10 Gears
Herculined Tub
Eliminated front axle vacuum disconnect and added Red Seal Savers
Custom Diamond Plate Interior
04 Rubicon Seats on Custom Mounts
Custom Front and Rear Bumper
4″ Rough Country Lift
2″ Body Lift
Rebel Flag Bikini Top
Dukes of Hazzard Horn
34″ Super Swamper Tires
This Jeep is quite unique and draws attention wherever it goes. John says the engine, transmission, and gear combination chimes so well together. He also says the Jeep will smoke the 34's in 1st, 2nd, and chirp 3rd on asphalt.
Definitely different and where's Daisy Duke?