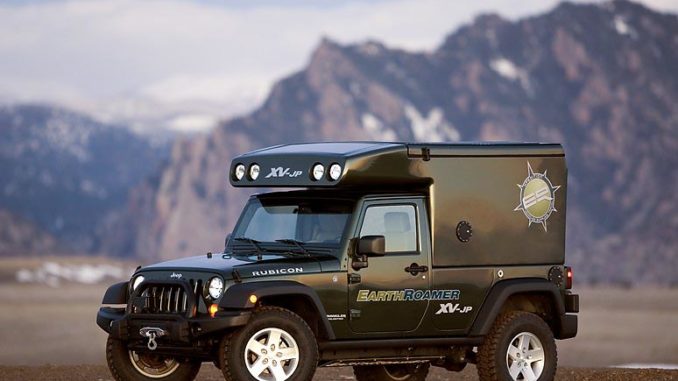 This is a way cool specialty Jeep that truly allows one to get away and stay away for some time. The info below was provided by EarthRoamer.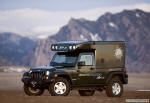 PRESS RELEASE from EarthRoamer: The Jeep Rubicon Unlimited based EarthRoamer XV-JP is designed to carry two adults on technical four-wheel drive trails to remote camping locations. Once in camp, the XV-JP's Loftop™ can be deployed to provide nearly 9 feet of interior stand up height and a queen-size bed in the loft. Underneath the cantilevered loft, the rear tent can be dropped down for an additional bug free living space. The XV-JP comes equipped with 25 gallons of fresh water capacity, an inside cassette toilet, inside shower, sink and cooking facilities. Plenty of light and ventilation is provided by an abundance of screened windows. An electric fan provides additional ventilation when needed and the forced air furnace will keep you cozy on cold nights and when winter camping.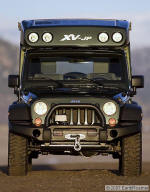 Live Your Dream!™
The best one-word description of an EarthRoamer Xpedition Vehicle is freedom. EarthRoamer XVs give you the freedom to travel confidently and comfortably anywhere you want, whenever you want, without concern for the weather or season. It's the freedom to head out on a trail in the middle of Baja to a pristine secluded beach. It's the freedom to camp safely with all the comforts of home high in the mountains – in the middle of winter!
It's the freedom to hit the road for a four-month expedition to Alaska and wake up to a different beautiful scene outside your window every morning. Fishing, cross-country skiing, snowmobiling, hunting, mountain biking, hiking, rock climbing, kayaking, photography, surfing, boating, racing – no matter what your passion, an EarthRoamer XV is the perfect base camp. EarthRoamer XVs provide the freedom to escape the stresses of everyday life and lets you enjoy nature in peaceful isolation. With an EarthRoamer XV you truly can live your dream!
Check out some more images of this unique Jeep.
For those looking for some extended off road adventure this may be the ticket for you.  See EarthRoamer's website for more information on the XP-JP.