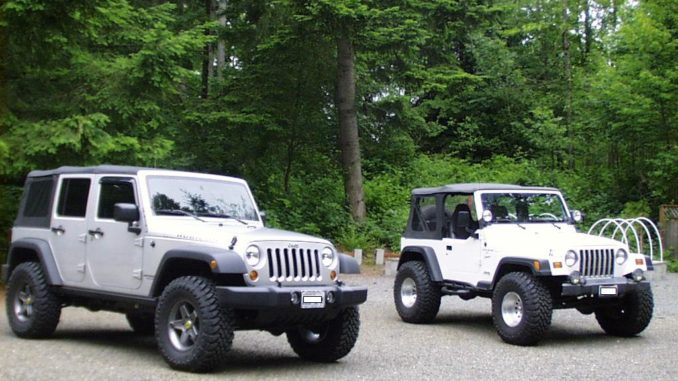 Bob and Darla's new Jeep Rubicon just screams "take me wheeling'. Almost right away Bob moved in to the additions and modifications. He decided for a lift it would be the TeraFlex Budget Boost 2.5" kit with shock spacers and for tires they would be 35X12.50X17 Toyo Open Country M/T's mounted to AEV Argent Pintler wheels.
He had all this installed by 4 Wheel Parts in Washington along with the BDS 2.5″ drop track bar bracket in the rear.
Bob's Jeep also has a set of window vent shades and a Mopar gas filler.
After lifting his Jeep he noticed the similar right side pull that we experienced with the jeepfan.com JK. In addition to the pull he has been experiencing an over active ESP system. Perhaps caused by the larger tires. We did not experience problems with the 33″ Toyos.
Bob also learned the importance of having the steering wheel corrected after the lift.
From Bob…"There is/are a sensor(s) in the steering column (something called a CLOCKSPRING) that report (I'm guessing here: the steering wheel position/thus driver's steering input?) to the ESP etc. So maybe if/when the steering wheel is off-center, mechanically the vehicle wants to go off center and maybe electronically it sends funky inputs to ESP on long big radius curves????"
The reason I know about the "clockspring" is that my rig had a lot-boy break a key off in the ignition and they tore the steering column down to fix it… afterward my "ESP" (not skidding icon) dash indicator warning came on and stayed on (and I think ESP was disabled.. but not sure) every time I started and drove it for a couple weeks before they replaced that "clockspring".
Many of us have experienced some odd issues after lifts/larger tires on the new JK's. There seems to be some learning by the aftermarket companies and us to get things right. Supposedly, TeraFlex is making a few changes to their budget boost system involving the sway bar links.
Some of the future add on's Smittybilt sidebar/steps for "us oldsters", Husky liners all around (wet-dirty Seattle), and a hood lock.