The Line Mountain 4 Wheelers, an EC4WDA Region B club, host several races a year at a location located in Dornsife, PA.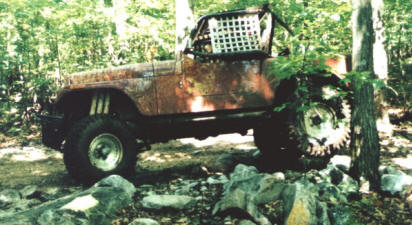 Traditionally they have 3 events a year, the first in the spring features the 3.5 miler, an EC4WDA sponsored event, then in the fall the 7 miler. Recently a race called the Coal Bucket was added to their schedule.  The 3.5 Miler and 7 Miler are an obstacle course through the woods that include Mud, straight flat out runs, rocks and more rocks, hills, and tight stretches.  The Coal Bucket is more fast rally style offroad racing.
The 3.5 Miler is only half of the course run backwards. The object is to achieve the fastest overall time, the competitors are started in one minute intervals and chase each other. Passing occurs where ever there is room or not.
The competition varies with several makes and models of 4X4s and Dune Buggies. Spectators become part of the action, for they are allowed to walk the course and may need to help right a rolled or stuck vehicle. When walking the course you come across all kinds of broken parts on the ground and even broken vehicles off to the side that are awaiting repair. The other event features flat-drags and an obstacle course.
The Line Mountain 4 Wheelers 3.5 Miler – 1998
The Line Mountain 4 Wheelers 7 Miler – 1999