Kempton, PA – August 17, 2008 – Page 1. Since the 80's the EC4WDA has held Jeep races at the Kempton Fairgrounds in Kempton, PA. The times have changed but the racing is still as good and entertaining as it ever was.
We paid a visit to the race and took in an afternoon of drag racing. Off road drag racing is typically a 100 yard strip with a typical timing and light setup found at a street drag strip. Jeeps were never really built to go fast but it is amazing how fast a Jeep can go in 100 yards. Stopping is another issue too.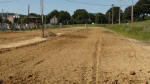 The race was run in a double elimination style starting with the women classes and then men. Both are run from the lower classes to the higher with some breaks in-between to groom the track.
We have put together an album to capture some of the vehicles and the action throughout the day.
Taking a walk through the pits gives one an idea of the differences in these vehicles. Some look like the barely stay together while others look like a lot of time and money went into them.
Overhearing conversation that day, some were talking about the race Jeep known as Mr. Dirt. Supposedly Mr. Dirt has reappeared on the track after a 15 year hiatus. A new owner, some new paint and a new engine brings the Jeep back to a menace on the track.

Below is a picture of Mr. Dirt today and in 1980.
 More pictures from the event